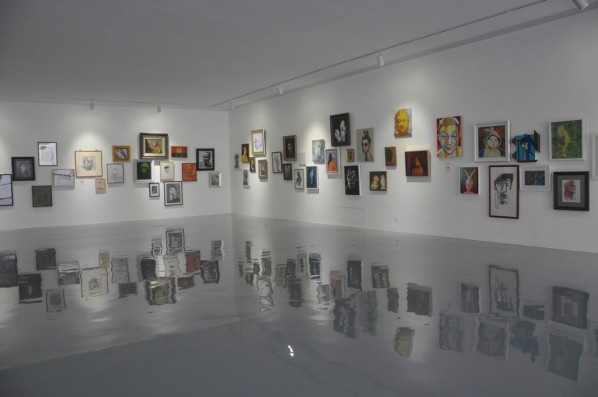 At 15:00 on September 28, "We: 1994-2013 – The 20th Anniversary Collective Exhibition of China Song Zhuang Artists" was grandly inaugurated at Songzhuang Art Museum. The exhibition is intended to better render the appearances of the artists in Songzhuang, and it is on display as a "self-portrait", firstly, to render as many images of artists that once lived in Songzhuang as possible, secondly, hoping the artists had a chance to stop for contemplation, offering a discourse with their minds. The exhibition goes on to November 11, 2013.
"Self-portrait" is a self- painted behavior by an artist, playing an important role in the history of art, and masters had always created classic self-portraits during their artistic careers, facing the self images and analyzing process of the spirit, artists look into the self, review the hearts, slowly portraying the pain and comfort on the canvas one after another. However, rather than a simple display of self-portraits, "We" is of a significance that through the statements and expressions according to self clues using a number of presented individual artists, depicting geographical, cultural and social texts.
Thanks to the almost 710 artists participating in the exhibition, thanks to all the artists who lived in Song Zhuang over the last two decades. Because of you, there is time, there is a history.
About the exhibition
Academic Advisor: Li Xianting
Curator: Fang Lei
Artists: 710
Organizer: Song Zhuang Art Museum
Co-organizers: Council of Xiaopu Village, Tongzhou District, Beijing
Beijing Song Zhuang Art Development Foundation
Sponsor: Snowscape Culture and Art (Beijing) Co.,Ltd
The acknowledgement goes to Beijing GuangYude Vision Tech Co.,Ltd
Show Time: 28th Sept. 2013 -18th Nov. 2013
Opening Reception: 15:00, 28th Sept. 2013
Venue: Songzhuang Art Museum
Translated by Chen Peihua and edited by Sue/CAFA ART INFO
Related posts: