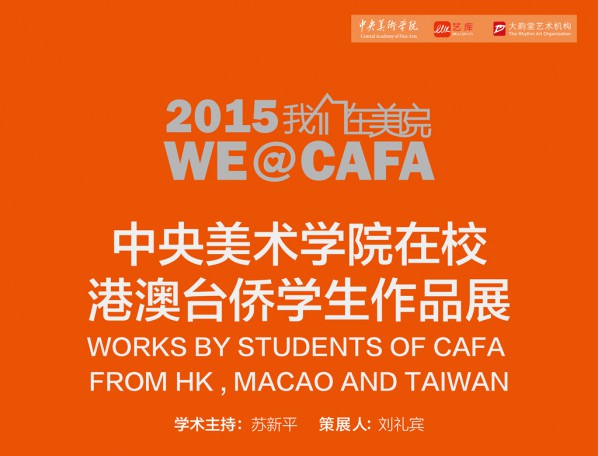 Hosted by the Office for Hong Kong, Macao and Taiwan Affairs in CAFA and the Rhythm Art Organization, We@CAFA – "2015 Exhibition of the Students of CAFA from Hong Kong, Macao and Taiwan" will open at Beijing Dayuntang Art Museum on February 27, 2016. The exhibition will collectively showcase the outstanding works by the 25 students of CAFA coming from Hong Kong, Macao and Taiwan, who have respectively transformed the special cultural information of different regions and backgrounds to the works of art, to present achievements in study and their creation in a phase.
The 25 young artists respectively come from Taiwan, Hong Kong and Macao, they come from the regions with a variety of cultures. They come to Beijing to seek their roots, to further study with a concentrated mind. In CAFA, they can experience an unique atmosphere of artistic tradition, teaching system and interaction between teachers and students, while the rigorous and unique academic atmosphere help them receive the most rigorous professional training, improve their artistic accomplishment, and also offers them a new inspiration and enlightenment, in their works, we can see their thinking and expressive methods are different from the students from Mainland China.
We@CAFA is a brand project for CAFA to promote the artistic creative achievements of the students from Hong Kong, Macao and Taiwan to the art circles, supporting the development of their artistic career in the future, and it has been continuously held for two years. Supported by the Rhythm Art Organization, the works of the students of CAFA from Hong Kong, Macao and Taiwan are able to be presented to the public and art circles. The Rhythm Art Organization in the long-term focuses on the growth of young artists, dedicated to supporting the artistic creation of young artists, to promote the development of Chinese contemporary art. Dayuntang Art Museum has successively organized a series of high-level academic exhibitions, to constantly make contributions to promote the development of artistic education in the contemporary colleges and universities of art. The exhibition will open on the afternoon of February 27, going through to March 13.
About the exhibition
Organizers: Office for Hong Kong, Macao and Taiwan Affairs in CAFA, the Rhythm Art Organization
Academic Chair: Su Xinping (Vice President of the Central Academy of Fine Arts)
Curator: Liu Libin
Venue: Beijing Dayuntang Art Museum (F2, Block A, Fairmont Tower, No.33 Guangshun North Main Street, Chaoyang District, Beijing)
Participating Artists: Chen Rui, Chen Wenrou, Chen Yang, Chen Yiting, Guo Yuning, Hou Peicen, Ji Xinlei, Jiang Chunyi, Lai Mingxian, Lai Xinyu, Li Jiarong, Li Xiaolin, Liao Zhenya, Lin Qing, Lin Yande, Liu Siting, Lu Zhangcan, Ouyang Yaoming, Xiang Rencong, Xu Kaijiao, Yan Shixuan, Zhang Ke, Zhang Tingwei, Zhao Xin, Zhou Jiacheng
Courtesy of the artists and Office for Hong Kong, Macao and Taiwan Affairs in CAFA, the Rhythm Art Organization, translated by Chen Peihua and edited by Sue/CAFA ART INFO
Related posts: