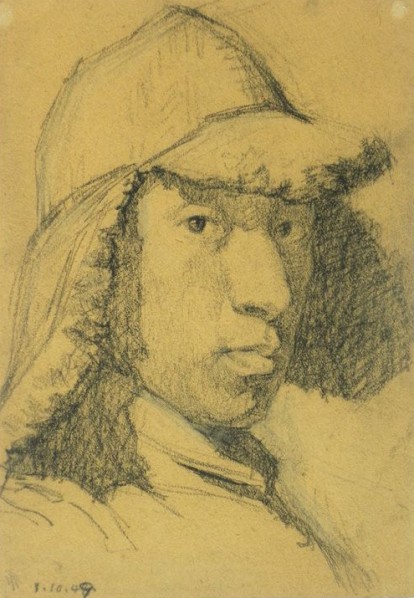 Born in Anqing, Anhui Province in 1923, Wei Qimei was taught by his art teacher Sun Duoci, when he was in Grade 3 of the junior high school in 1937. In 1942, he graduated from Hunan National Eighth High School, and was admitted to the Department of Art, Chongqing Central University, where he was supervised by Xu Beihong. When he graduated from the university in 1947, he was invited by Xu to teach in the National Beiping Art School. He featured oil painting "My Son Renders Meritorious Service" participated in the First National Art Exhibition in 1949. Since 1950, he has taught in the Department of Oil Painting, CAFA. In 1957, his oil painting "Model Culturist" was involved in the First National Youth Art Exhibition. In 1963, the oil painting "Early Spring" was shown at the exhibition of "The Spring of Commune". In 1976, the oil painting "Qingshazhang/ Green Curtains" was completed, exhibited and collected by the Military Museum of the Chinese People's Revolution. He served as the director of the Research and Study Studio of the Department of Oil Painting, CAFA in 1977. Since 1980, he had begun to create works themed on the lives of science, technology and the city. In 1983, he was promoted to a professor, and director of the Graduate Course of the Department of Oil Painting, CAFA. His cartoon "Carrying Bricks" won a silver medal at the 6th National Art Exhibition, and oil painting "The Idea of Dam" participated in the 5th National Art Exhibition in 1984. The oil painting "Lecture" was shown at the First National Oil Painting Exhibition in 1985. In 1988, he featured "Magician" in the Chinese Painting Exhibition of the Human Body. The cartoon "Curious" participated in the 7th National Art Exhibition in 1989, and won a silver medal. In 1991, the oil painting "Hallway of the High School Affiliated with CAFA" and "Solo" were displayed at the "20th Century – China" art exhibition. In 1994, "Chinese Comic Book Series • Wei Qimei" was published, and the oil painting "Windmill" participated in the 2nd Chinese Oil Painting Exhibition. In 1996, "Chinese Masters Art Weekly· Wei Qimei" was published in Taiwan, and "Mingda's Wind and Cloud" participated in the China Oil Painting Society Exhibition.
About the exhibition
Duration: September 3 – September 22, 2013
Venue: Gallery B, second floor, CAFAM
Organizer: CAFA Art Museum
Courtesy of the artist and CAFA Art Museum, translated by Chen Peihua and edited by Sue/CAFA ART INFO.
Related posts: