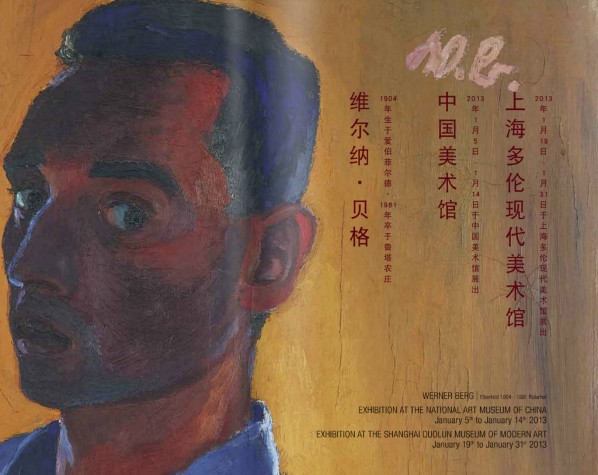 Applying close shot technique, Werner Berg has his pictures extending to margin of canvas and even generates visual effect of jumping out of frame, no matter it is landscape, figure painting or still life. Werner also uses circular layout to achieve quiet and stable effect. Werner's practice of using color is cool and mysterious and he strikes his works by ordinary tones. Besides, woodcut is another important artistic form of Werner. His figures have distinctive personality and strong symbolic meaning. Werner tries to be different in each of his character and never sticks to the mud. With simplified style, he can, however, convey various experiences directly.Werner's works have been showed in many famous art museums and galleries all over the world including Berlin, Hamburg, Vienna, Paris, New York and Munich, and collected by numerous important collectors and art museums. Over 70 pieces of oil painting and 16 pieces of woodcut will be on show in the exhibition, which will surely bring audience a comprehensive understanding to this Austria painter.
After it's exhibited in the National Art Museum of China from January 5th through to January 14th, it will tour to Shanghai Duolun Museum of Modern Art from January 19th through to January 31st.
About the artist
Werner Berg was born in Elberfeld (Wuppertal) in 1904. After graduating from school he completed an apprenticeship in retail trade and studied political science, from 1924 in Vienna, where he graduated with distinction in 1927. He turned down an academic career and his long-nurtured wish to become a painter came to the fore and he enrolled at the Vienna Academy of Fine Arts under Karl Sterrer. After one year, in 1928, he switched to the Munich Academy and became a master student of Carl Caspar. By then he had already decided to later settle in the countryside with his wife, who had also completed her political science studies. In 1930 the young family acquired the Rutarhof, a remote mountain farmstead in mixed-language Lower Carinthia.
Now Werner Berg was a farmer and painter, he found meaning and tranquillity in the new lifestyle, but often the labours of everyday farm routine took him up to breaking point.
Following the first exhibition successes in Germany an exhibition of his pictures in the Cologne Art Club was closed by the police in 1935 because "it violated the healthy sensibility of the people". He counted as one of the "degenerate artists".
In 1941 Werner Berg was drafted as a medical orderly, in 1942 he was deployed as a war painter on the Polar Sea front in Scandinavia. In autumn 1945 he returned to the Rutarhof.
In 1951 Werner Berg met the poet Christine Lavant, whose outstanding importance he was one of the first to recognise.
As a result of serious conflicts in his own living environment and continual uninterrupted hostilities by one part of the official Vienna art world he suffered a mental breakdown in 1955 and stayed in hospital for almost one year. Firmer and more determined, afterwards Werner Berg found new creative power. A series of major exhibitions followed.
In 1968 the Werner Berg Gallery of the City of Bleiburg was opened for the first time – in his testament the artist had bequeathed the works of the gallery to the public in the form of a foundation.
Following the death of his wife in 1970 – he had always called her the "lady and soul of Rutarhof" – Werner Berg's last decade was also characterized by increasing isolation as well as strong artistic power.
On the 7th September 1981 Werner Berg died in his studio at Rutarhof.
About the exhibition
Duration: January 5-14, 2013
Organizers: The Austrian Foreign Ministry in China, the National Art Museum of China, Schutz Fine Art, Werner Berg Museum
Venue: Hall 9
Courtesy of Werner Berg Museum, for further information please visit the National Art Museum of China and Werner Berg Museum.
Related posts: