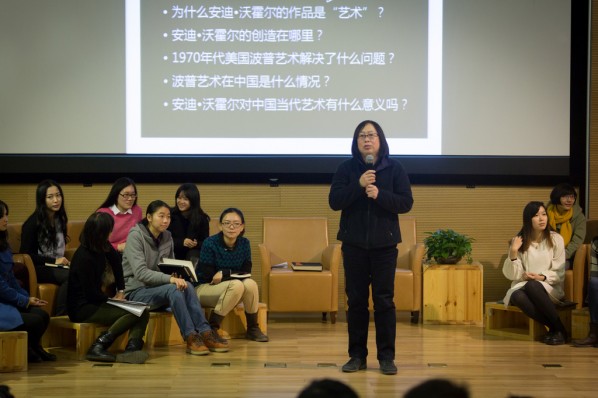 "Contemporary Academic Open Classroom" officially opened at the Auditorium of CAFA Art Museum at 10:00 am on November 14, 2013. The series of lectures were co-organized by the Academic Committee of CAFA, CAFA Art Museum, School of Humanities, CAFA, in cooperation with CAFA Young Teachers Association, and Prof. Liu Xiaodong, Wang Huangsheng, Director of CAFA Art Museum, and Yin Jinan, Dean of the School of Humanities, CAFA, serve as the general planners, Prof. Song Xiaoxia serves as the academic director and gave the first lecture which was entitled "What is Art? – Discussion Triggered by Andy Warhol". Students from all faculties of CAFA and universities across Beijing, as well as cultural groups participated in the discussion.
Before the start of the discussion, the general planners of the "Contemporary Academic Open Classroom" including Director Wang Huangsheng, Dean Yin Jinan, and Prof. Song Xiaoxia respectively gave a speech. Wang Huangsheng said, "Contemporary Academic Open Classroom" had a profound meaning, in the current cultural fragmental and two-dimensional background, as a university and art museum we were responsible for the opening of academic thinking, pioneering culture highland, and the hope of bringing new content and information to CAFA and cultural circles through the communication of the open classroom. Yin Jinan put forward that CAFA should be highly aware that it was a place for the elite, we should build the "central" thought rather than the geography or any other meaning of the central, constantly undertaking the production of new knowledge with an "open" theory. Prof. Song Xiaoxia believed that, "academic open" had a double meaning: firstly the open artistic discipline that is open to contemporary China with a global vision, in the interaction with contemporary scholarship; secondly creating a classroom with a real collision of ideas, to constitute a space for sharing the interests of thinking and the creative puzzles. She said, "Contemporary Academic Open Classroom" was open, where both the professional issue and popular culture were accessible to talk about, which were contained in the academic category.
The discussion was unfolded around the following five questions: Why Andy Warhol's works are "art"? What had Andy Warhol created? What issue did American pop art solve in the 1970s? What happened to pop art in China? What role did Andy Warhol pay in Chinese contemporary art?
Under the direction of Song Xiaoxia, all students that were present fiercely discussed the above five questions: The achievement of Andy Warhol was in providing a new way to look at art, to stimulate the audiences; Warhol made use of mass culture to mock the traditional elite; the reason why Warhol was famous worldwide was because of a historical opportunity, that Western art chose him, made him successful; Warhol's thought broke the boundary between elite culture and popular culture, made a perfect combination of art and commerce; Warhol was very real, American economy was in a period of stagnation in the 1960s and 1970s, as a commercial illustrator, he sincerely performed his views on life and the world; American painting had a realistic tradition, an inheritance of the inner tradition, but Warhol performed withmthe American commercial society at that time, breaking the boundaries of the originals, proposing a form of replication; Warhol's works had a strong visual impact, novel images, and even shaped himself as a star; Warhol was a diverse and complex artist and performing artist, decorating himself with the use of art, always performing himself to create a strong expression. In addition, they had a lively discussion on the influence to Chinese contemporary art from with the artistic concept of Andy Warhol and Beuys, they combined their professional features and artistic ideas to express their various views and opinions.
Song Xiaoxia proposed her views about the speeches to the present students and social masses: Andy Warhol and Pop artists applied the materials which were made to mock "American culture" by the Europeans. It was worthy of our study that these popular images, placed in the context of new art, transformed and agglomerated into a power through culture, the artists completed a separation of the European aesthetic traditions, to create a unique American art. In addition, she introduced the "High and Low: Modern Art and Popular Culture" which was held at New York MOMA, USA from October 7, 1990 to January 5, 1991, she hoped the students understand the context of Warhol's art through the exhibition catalog, as well as the issues faced by the artist at that time, and discussed what issues of our times were, through reference and comparison. Everyone had his/ her own background of knowledge and research method, more and more issues would be generated through the discussion, and would even arouse an in-depth discussion of the Chinese cultural origin.
The first "Contemporary Academic Open Classroom" was such a session of "academic open" experiment, either the speakers, the postgraduate students and phd students from the School of Humanities on the stage, or teachers from CAFA Young Teachers Association, the students and alumni from School of Chinese Painting, School of Plastic, School of Design, School of Architecture, etc., as well as the students from universities across Beijing, cultural masses, all present applied a form of temporary structure to constitute a vivid "field" which constantly produces possibilities of thought.
Text: CAFA ART INFO, Department of Public Education at CAFA Art Museum
Photo: Hu Zhiheng, translated by Chen Peihua and edited by Sue Wang/CAFA ART INFO.
Related posts: