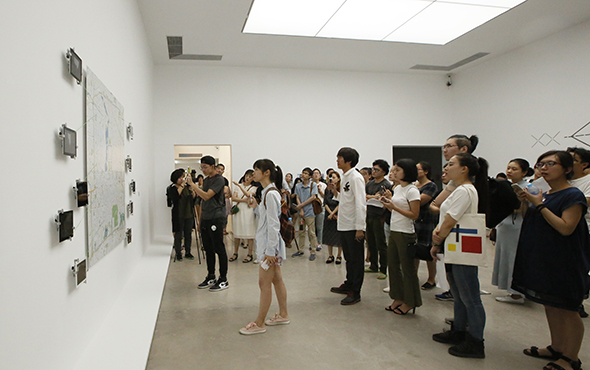 On September 9, 2017, Ivy Art 2017 Young Curator Special Project – "What Makes Our Lives So Different" opened at N3 Gallery in 798 Art District in Beijing with a series of exhibition activities opening at the same time. The exhibition is organized by Ivy Art and N3 Gallery, planned by the young curator Wang Lin. This project hopes that the artists use their own life experiences as the origin of their creation. Rather than extracting the individual artists, it practices the creative programs by blending with life, which can effectively bring a little change to the surrounding life.
Now, more and more activities and projects are actively explore and practice "art and social relations". The majority of them select the problem of "villages" and "towns", to intervene from different perspectives and methods. Wang Lin seems to care more about life, which is closely related to daily and personal life. Artists are social individuals who also face a variety of problems including networking, community, habitat, pollution, traffic congestion and medical treatment. Many people become numb because they are too familiar with the surrounding environment, so that they lose the power to change. The curator Wang Lin choses eight groups of artists and uses their works to show his thoughts and expected changes.
Eight groups of artists started from their own life experiences to make a creation, focusing on the surrounding life, blended in the creation with an awareness of consciousness. They respectively focused on the shared economy, ecological community, urban traffic, policy of the foreign population that have a regional inspection and action practices. Artist Yang Xinjia's work entitled "The Last 46 Kilometers" is his thought on the shared economy, and also thoughts on the suburban problems. Yang Xinjia's studio is located in the North Shicao Village of Shunyi District, Beijing, which is about 40 km away from the central urban area, and it is hard to find a shared bicycle which is found everywhere in the central urban area. Yang chose seven locations where he randomly selected a shared bike and went back to North Shicao Village by bike, so that the villagers could use them. But it was followed by many problems as the bicycle locks were almost destroyed and the bikes were privately locked by the villagers. It seems to be a manifestation of some social class. At this point, the artist believes that the problem of shared bike's attributes should be redefined.
N-Industry displays the work of "Investment Station". Established in April 2017, it is located in a semi-underground hotel of Haidian District, Beijing, as a platform for meeting, discussing, practicing, reflecting, integrating resources and communicating. The investment station itself is dedicated to the integration, accumulation, production and transformation of space resources in the community, focusing on the establishment of a relationship of local mutual cooperation, in order to stimulate the potential of people and the communal environment; Artist Ju Anqi lives in Tongzhou, and his work entitled "Be Careful of Trucks" focuses on the phenomenon of trucks running the red light which frequently occurs in Tongzhou, since Tongzhou has become a new city of Beijing, a large number of trucks carrying dregs enter Tongzhou at night, traffic accidents and casualties happen frequently as trucks run the red light. Whether there are improper management by the relevant department or contradictions caused by the relevant regulations and the rapid construction of urbanization? The artists placed LED light boxes with the rolling characters of "Be Careful of Trucks" in the neighboring traffic light intersections in order to remind the public and ordinary vehicles, as well trucks to comply with traffic regulations, in order to be safe. At the beginning, trucks slowed down, but after a long time, drivers ignored it, so this phenomenon and problem can't be resolved.
The works by the eight groups of artists are undoubtedly formed using art intervention, with personal efforts to explore the social and community issues. After watching their works, we found that art can make our lives different; we can change the surrounding lives. But Wang Lin believes that this curatorial program is an idealistic program, art intervention is used to change life, but the changes are weak. He also believes that the action and process is important for the project, while the exhibition is only a phased presentation and a start to throw out a minnow to catch a whale, through the artists' action and practice to lead to more thoughts on problems, he hoped that more people could participate, to form a successive topic and successive action, so that our lives become better.
"What Makes Our Lives So Different" is a special exhibition project of the "Ivy Art 2017 Young Curator Project", and it embodies the continuous tracing of the young curators and the profound cooperation with young curators. "Young Curator Project" is a new exhibition project launched by 2016 Ivy Art, in addition to holding the "Annual Chinese Young Artist Exhibition", and it collected the exhibition programs of the young curators at home and abroad through a project responsibility system, and the excellent pieces were selected and finished, helping young curators to turn art ideas and academic programs into exhibition reality.
The exhibition remains on view till September 16. "Ivy Art 2017 Youth Curator Special Project" is successively on show in Beijing and Tianjin, from September to October, 2017.
Text by Yang Zhonghui, translated by Chen Peihua and edited by Sue/CAFA ART INFO
Photo by the organizer
About the Exhibition
Title: What Makes Our Lives So Different
Organizers: Ivy Art, N3 Gallery
Curator: Wang Lin
Artists: N-Industry, Ju Anqi, Luo Qiang, Ma Lijiao, Tan Yingjie, Yu Bogong, Yang Junling, Yang Xinjia
Duration: September 9 – September 16, 2017
Opening: September 9, 2017 15:30
Venue: N3 Gallery, 706 North Third Street, 798 Art District, Jiuxianqiao Road, Chaoyang District, Beijing
Related posts: