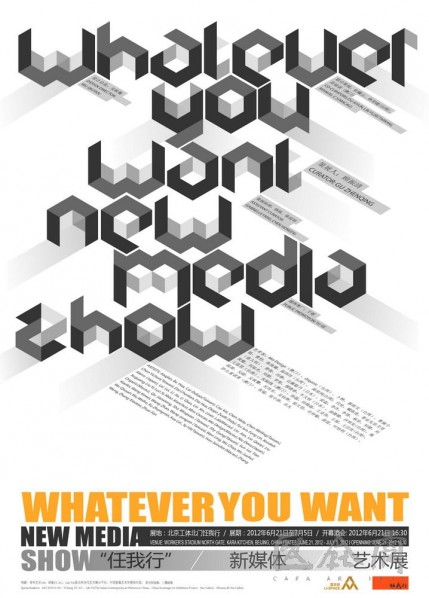 New Media Art was born in the liberal development of a global context. New media art is a genre that encompasses artworks created with new media technologies, including digital art, computer graphics, computer animation, virtual art, Internet art, interactive art, computer robotics, and art as biotechnology. Different from traditional visual art, it makes a breakthrough in the vehicle of dissemination what's more it blurs the boundary between art practitioners and consumers and combines them into an organic whole. Art has never been so opposite to life. Since the day New Media Art was born, it has been connected with the exchanges of markets namely it has undergone the process from modern media of technologies to art through capitalistic patronage.
New Media Art often involves an interaction between the artist and observer or between observers and the artwork, which responds to them. Therefore, practices of New Media Art often appear to be interesting, aesthetic, vogue, alternative and creative.
Lead by internationally renowned curator Gu Zhengqing, young curator Du Xiyun, Macau Designer Manuel C.S and Taipei curator Lin Yujin formed the curatorial team with the support of Wu Qiuyan, the new media artist and curator who acts as the director, they jointly present this art feast of multimedia which embody the spiritual nature of contemporary art and culture. Over 40 new media artists will bring to an audience their vigorously original practices in animation, 3D video, video installation, interactive multimedia, internet art, mobile media, light media and other innovative creations.
Artists: Mo-Design (Macau), Organic (Taiwan), Bu Hua, Tsau Ou Bau(Taiwan), Miss Cao Cao, Cao Kai, Chen Hailu, Chen Weiling(Taiwan), Chen Yichun(Taiwan), Dai Hua, Dai Chenlian, Diego Zueli (Italy), Fei Jun, Feng Lin, Akino Knodo (Japan), Lei Lei, Li Jie, Li Qian, Lin Xin, Liu Jian, Liu Qianyi, Liu Xuguang, Liu Yi, Luo Si, Miao Xiaochun, Ushi Daigo(Japan), Qu Jianxiong, Sha Mingxian, Shy Gong(Tai Wan), Lines Lab (Macau), Sun Lei, Tian Xiaolei, Wang Kewei, Wang Zhan, Wang Zongxin, Wen Ling, Wu Chao, Wu Qiuyan, Wu Weihe, Wu Yuhui, Xu Wenkai, Xu Zhongmin, Xue Lei, Ye Yili(Taiwan), Yves Sonolet (Macau), Zhang Meng, Zhang Xiaotao, Zhuo Fan.
Opening: June 21st, 2012 4:30 pm
Curator: Gu Zhengqing
Joint Curator: Du Xiyun, Lin Yujie(Taiwan), Manuel C.S(Macau)
Design Director: Wu Qiuyan
Curatorial Assistant: Yang Fan, Chen Hongpei
Duration: June 21st-July 5th, 2012
Venue: kara kitchen
Address: kara kitchen, Worker's Stadium North Gate
Tel: +8610-6593 9999, +8610-8527 0059
Website: www.cucina.com.cn
Related posts: