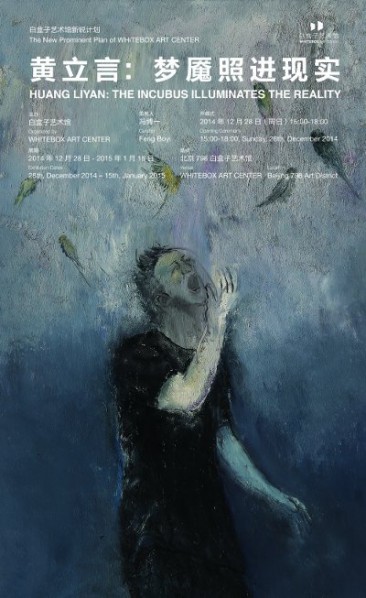 White Box Art Center presents "Huang Liyan: The Incubus Illuminates the Reality," an exhibition of more than 20 oil paintings by the artist himself. Curated by Feng Boyi, the exhibition is on view December 28 through January 15 at the Whitebox Art Center, 798 Art District, Beijing.
Huang Liyan postgraduated from Guangzhou Academy of Fine Art in Department of Oil Painting in 2007 and currently live in Beijing. He stands in a marginalized posture apart from the loud reality, from a peaceful, introspective point of view, and by purely, virtually getting located in a chaotic, saturated gray color, he gives human, plants, animals, landscapes strangeness and obscurity. As the compositions and the blend of the shades of colors colliding, and correspondingly absorbing, the significance behind the canvas begins to emerge. They have a unusual visual tension which could see through the surface, and are presented in an unaccounted, mistery and twisted vocabulary. Like an untraceable midnight incubus, an inextricable presumption, it shows his personal experiences, memories and thoughts. Probably it is the dimness and absurdness that the frames present, or the looseness of the visual language have made his works formed by inner intension and gloominess feel like an incubus.
Huang Liyan seems not on the list of the artists who receive a lot attention. His works are like a muttering wanderer in a daydream, they tell a unreal parable, keeping their fanciers trapped in his ridiculous nightmare, leaving the ones who understand somehow carrying the under-the-rug joy. the absurd significance of his pieces has been formed: look real, even lifelike, but actually imaginary. There's no pattern, no tails to trace. Even though you have known the elements apart, he could still hit you hard in the dark night, and becomes the tangle of the dreams that you can't shake and the nightmares that rise from reality. It gives a strong contrast, contradiction, suspense, and a imaginary place where things happen.
In today's fickle dust motes of art, the market rules. Huang Liyan's constant thinking and struggling in frame expressing can be somehow scarce. When instant pleasure has become the popular mass culture or even the artists' goals, the expression and introspection which is anything but attenuated says the reason why his art exists. If we were living a world full of bizarreness, then every token of effort that says about our situation is precious. Huang Liyan's art being a method that he express and get involved in himself and the society and existence, or a metaphor for our lives' factual dependence, is stuffed with underlying conflict, obsession and anxiety, we have no where to go and no date to return. So what artist trying to hint is only to have the incubus illuminate the reality.
About the exhibition
Duration: December 28, 2014-January 15, 2015
Venue: White Box Art Center
Curator: Feng Boyi
Presented by: Sun Yongzeng
Exhibition Director: Liu Chenya, Cao Maochao
Exhibition Coordinator: Shen Feifei
Organized by: White Box Art Center
Courtesy of the artist and White Box Art Center, for further information please visit www.798whitebox.com.
Related posts: