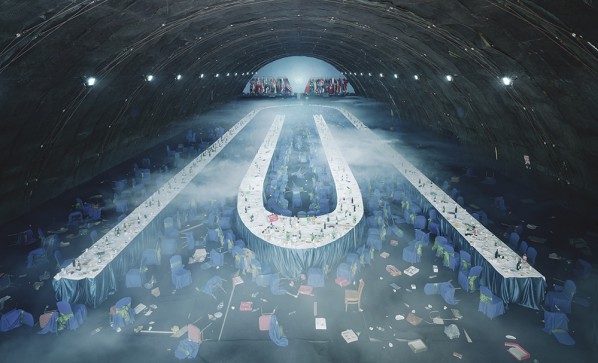 As a celebrated contemporary artist, Wang Qingsong is highly appreciated at home and abroad. It has been 30 years for him to be engaged in the artistic creation since 1980s, participating in momentous academic exhibition in China as well as the world and was widely recognized.
"One World, One Dream" exhibition is curated by SUE KIM, managing director of White Box Art Center, and this is the first large scale solo exhibition that she has taken charge after joining in the team. It was also the slogan of The 2008 Beijing Olympic Games that had caused the prominent changes and strikingly speeded up the internationalization, which is known to all. In the mean time, other countries and areas around the world are striving together for the unity, such as Juntos num sóritmo as the slogan of 2014 FIFA World Cup Brazil.
Named as One World, One Dream, Wang's new work will be created in the exhibition hall in White Box Art Center, which writes the logo and titles of The Fortune Global 500 and top 500 world universities on the huge blackboard. This is to illustrate how the international integration is intensifying and the individual pursuing is happening as well as to raise concern. There are a variety of contradiction existing, reminding all of us of understanding the world from a prudent perspective. For example, circumstances and aspiration experiencing by people around the world, economic development and spiritual deprivation, national essence and cosmopolitan horizon, age-difference in individual, dream and reality, etc.
Additionally, 5 pieces of photograph and sculptural installation works of Wang's in recent decade that share the same criticalness will also be presented this time. He pays close attention to various issues among this changing society. For instance, Baggage was a sculpture created specifically for The 2008 Shanghai Biennial. It consisted of different kinds of baggages made of copper, warning people of the instability as a movable individual. In fact, Wang has never been diverted from his own style since 1980s, and till recent 30 years he was still keeping a close eye on issues like the humanity aspiration, faith deprivation, culture interruption, history tracing and regulation re-establishment. All of these problems revealed gradually after the Chinese economic reform, when the national emphasis is put on the economic drastic growth, and this situation was severer in the post-Olympic era.
One World, One Dream will present Wang's creation journey in last decade with several representative works and it will last until August 3, 2014.
About the artist
Wang Qingsong
1966
Born in Daqing, Heilongjiang Province, China
1991-93
Oil Painting Department of Sichuan Academy of Fine Arts, Sichuan, China
Lives and works in Beijing since 1993
Selected Solo Exhibitions
2014
One World One Dream,Beijing,WHITEBOX ART CENTER
2012
Wang Qingsong, Gallery 100, Taipei, Taiwan.
The History of Monuments, Taipei MOCA plaza, Taiwan.
2011
When the World Collides, International Center of Photography, New York City, USA.
Happy New Year, Tang Contemporary, Beijing, China.
Glorious Life – Wang Qingsong Photo Works 1997-2010, Lucca Photo Festival, Villa Bottini, Lucca, Italy.
2010
Follow Me, Centro Andaluz de la Fotografia, Almeria, Spain
Travelling show details:
– Almería – 15/02 al 18/04 de 2010. Centro Andaluz de la Fotografía
– Cádiz – 16/09 al 1/11 de 2010. Palacio Provincial. Diputación
– Córdoba – 21/01 al 13/03 de 2011. Sala VIMCORSA
– Granada – 12/04 al 4/09 de 2011. Centro Cultural Caja GRANADA Memoria de Andalucía
Wang Qingsong – Fotografie, Stadtmuseum, Siegburg, Germany
Wang Qingsong: Three Video Projects, Pékin Fine Arts, Beijing, China
2009
Wang Qingsong, 2009 Hammer Project, Hammer Museum, Los Angeles, U.S.A.
2008
Caution, PKM Gallery, Beijing, China
Phantom China, Kunsthalle Nexus, Saalfelden, Austria
Wang Qingsong: Temporary Ward, Baltic Contemporary Art Center, Gateshead, UK
Panic, Fear and Violence, Marella Gallery, Beijing, China
Unparalleled Madness, Madhouse Contemporary, Hong Kong, China
2007
China: Past, Present & Future, MEWO Kunsthalle, Memmingen, Germany
Travelling show details:
– 02/2007–10/2007 Kunsthalle Memmingen, Germany
– 01/2008–06/2008 Lokschuppen Rosenheim, Germany
– 10/2008–11/2008 Kunsthaus Nexus Saalfelden, Austria
– 06/2009–08/2009 Museum der Stadt Ratingen, Germany
-11/2009–01/2010 Kunsthaus Bentlage/Rheine, Germany
– 01/2010–03/2010 Stadtmuseum Siegburg, Germany
– 03/2012–05/2012 Galerie EB Zürich, Switzerland
Thinker: Wang Qingsong, Chinablue Gallery, Beijing, China
Wang Qingsong, PKM Gallery, Seoul, Korea
Wang Qingsong: Between Nostalgia and Cynicism, Espaço Cultural Contemporâneo (ECCO), Brasilia, Brazil
2006
Wang Qingsong, Albion Gallery, London, UK
2005
Wang Qingsong in Arras, City Hall, Art Academy and Public Library, Arras, France
2004
Wang Qingsong: Romantique, Salon 94, New York, U.S.A.
Wang Qingsong: Romantique, Courtyard Gallery, Beijing, China
2003-2004
Wang Qingsong: Present-day Epics, Saidye Bronfman Contemporary Art Center, Montreal, Canada, travelling to The Southern Alberta Art Gallery, Lethbridge, Alberta, Canada and etc.
2002
Wang Qingsong Photography, Foundation Oriente, Macau, China
Golden Future: Photography by Wang Qingsong, Galerie Loft, Paris, France
Wang Qingsong, Marella Arte Contemporanea, Milan, Italy
Satirizing the Times, 2nd Pingyao Photo Festival, Pingyao, China
2000
Glorious Life: The Photographs of Wang Qingsong, Wan Fung Gallery, Beijing, China
Awards
2006
Outreach Award from Renocontres de le Photographie, Arles, France
Collections
Guangdong Art Museum, Guangzhou, China.
White Rabbit Collection, Sydney, Australia.
Asia Society, New York City, USA.
San Francisco Museum of Art, San Francisco, USA
Gallery of Modern Art, Queensland, Australia.
Denver Art Museum, U.S.A.
Institut Valencia d'Art Modern (IVAM), Valencia, Spain
Victoria and Albert Museum, London, UK
Artium, Vitoria-Gasteiz, Spain
J. Paul Getty Museum, U.S.A.
National Gallery of Victoria, Australia
Hammer Museum, U.S.A.
San Diego Museum of Art, U.S.A.
Billstone Foundation, Spain
Aspen Art Museum, U.S.A.
MUMOK, Austria
New Orleans Museum of Art, U.S.A.
Philadelphia Museum of Art, U.S.A.
Cisneros Foundation, Miami, U.S.A.
Mori Art Museum, Japan
Smart Museum of University of Chicago.U.S.A.
Brooklyn Museum. U.S.A.
Williams College of Art. U.S.A
The Moscow House of Photography, Russia
Maison Européenne de la Photographie (MEP), Paris, France
National Art Museum of Brazil, Brazil
Oriente Foundacion, Portugal
Art Tower Mito: Contemporary Art Museum, Japan
JGS Foundation, New York, U.S.A.
Queensland Art Gallery, Australia
The International Center of Photography. New York, U.S.A.
Courtesy of the artist and White Box Art Center, for further information please visit www.798whitebox.com.
Related posts: