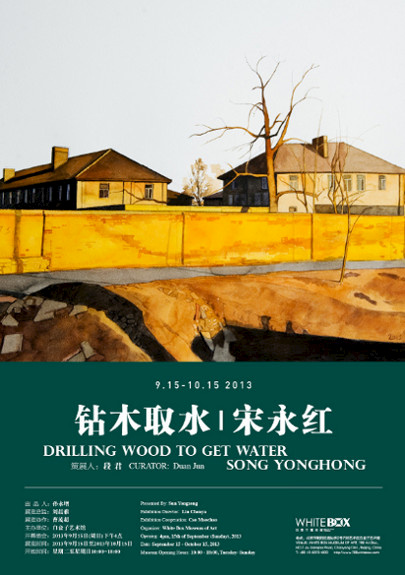 White Box Museum will present Song Yonghong's new solo exhibition – "Drilling Wood to Get Water: Song Yonghong". The exhibition is planned by the critic Duan Jun, and Song Yonghong's ten works created in last two years will be on display, which include five woodcuts and five watercolors. The opening time is September 15, 2013, and will be on until October 15, 2013. The catalog printed along with the exhibition will include Song Yonghong personal narration about art and life in the 1989-2012, which is a total of twenty thousand words, and has a certain literature value.
Song Yonghong studied in the Print Academy of Zhejiang Academy of Fine Arts in the 1980s. In 1985, he painted "Public Bathroom" with watercolor; 1988, he created a few copperplate paintings "Unfamiliar Environment"; 1989, he created a lot of oil paintings on canvas, and entered at once in the most important Chinese contemporary artists ranks since 1990s. His woodcut creation undoubtedly has interrupted for a long time. The exhibition's title – Drilling Wood for Water, implies a wood (woodcut) and water (watercolor). In recent years, woodcut and watercolor again let Song Yonghong find new emotions and feelings. Originally, Drilling Wood is to make fire, but now for water. Maybe giving up the goals set can have unexpected results.
About Song Yonghong
1966 Born in Quyang County, Hebei Province, China.
1988 Graduated from Department of Prints and Lithography in Zhejiang Art Academy (now, China Academy of Fine Arts).
1988-1997 Taught at Beijing Arts and Crafts College (now, Beijing School of Design).
1997 Lives and works as a professional artist in Beijing.
About the exhibition
Duration: Sep 15 – Oct 15, 2013
Venue: White Box Museum of Art
Opening: Sep 15, 2013 Sun 16:00
Curator: Duan Jun
Presented by: Sun Yongzeng
Exhibition Director: Liu Chenya
Exhibition Cooperation: Cao Maochao
Organizer: White Box Museum of Art
Opening Time: Tuesday-Sunday, 10:00-18:00
Tel: 010-59784800
Add: 798 Art District, NO.2 Jiu Xianqiao Road, Chaoyang District, Beijing
Courtesy of the artist and White Box Museum of Art, for further information please visit www.798whitebox.com.
Related posts: