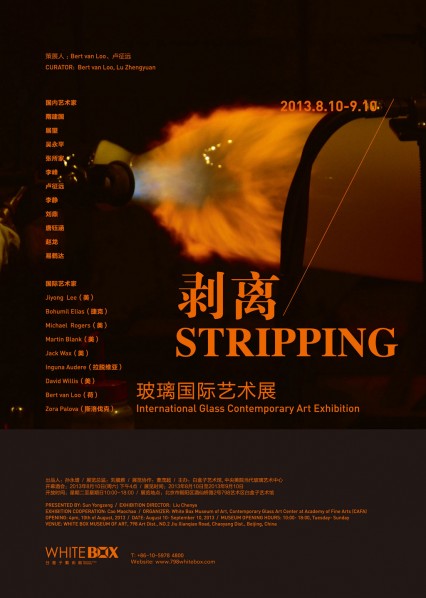 By Lu Zhenyuan
Stripping, which stresses a state and process, is a separation method from the edge of the interface; however, GLASS is the amorphous substance, a solid without crystallization after melting and cooling.
The exhibition aims to take the substance "Glass" as the curatorial club and final presentation, and leave the metaphysical thinking to twenty artists who have a unique perspective and grasp force about the conceptions and materials in contemporary art field. Then we will see how they get rid of psychological inertia from substances under the condition of the same material's limit and similar focal point about the materialization, and strip the concept of glass to make their works exude a kind of unique atmosphere. So they could excavate and reconstruct more possibilities about physical materials, and then expand the value reconstruction of physical properties in contemporary art.
"Stripping" has the similar pronunciation with "Glass" in Chinese, so we hope use it to reach our imagination about this exhibition temperament.
"Stripping" International Contemporary Glass Art Invitational Exhibition will display on August 10 – September 10 at White Box Museum of Art which is hosted by White Box Museum of Art and CAFA Glass Arts Centre. Most of the works are designed specifically for this exhibition. We will simultaneously public the albums. One is recording the artists' creating process and creative ideas in the form of documents and images, and the second is making background stories about "glass" to tell about its past and present.
About the exhibition
Curator: Bert Van Loo, Lu Zhengyuan
Presented by: Sun Yongzeng
Exhibition Director: Liu Chenya
Exhibition Cooperation: Cao Maochao
Organizer: White Box Museum of Art / Contemporary Glass Art Center at Academy of Fine Arts (CAFA)
Opening: 4pm, 10th of August, 2013
Dates: August 10- September 10, 2013
Museum Opening Hours: 10:00- 18:00, Tuesday- Sunday
Venue: WHITE BOX MUSEUM OF ART, 798 Art Dist., NO.2 Jiu Xianqiao Road, Chaoyang Dist., Beijing, China
T: +86-10-5978 4800
Website: www.798whitebox.com
Related posts: