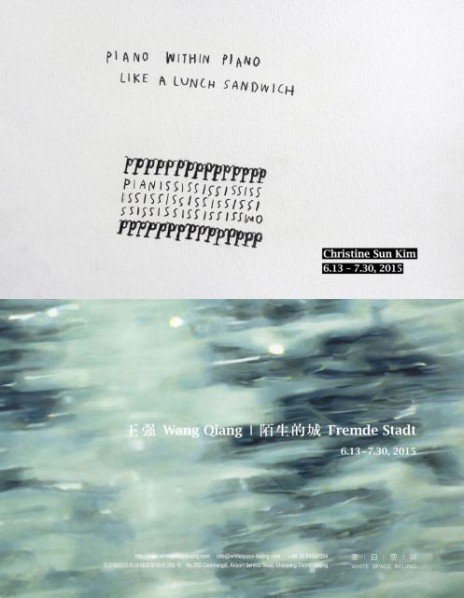 Christine Sun Kim | Piano within Piano Like a Lunch Sandwich
Christine Sun Kim's first solo exhibition in WHITE SPACE BEIJING "Piano within Piano like a Lunch Sandwich" will open on June 13, 2015.
Kim's artistic practice relies on conceptual and technological methods. Through painting, performance, and discursive approaches, she has redefined her own voice. While doing research, she discovered that both sign language and music had a similar sense of space and that this could be made into a visual process, like symbols appearing on paper. By using the sense of movement and physically expressive grammar of American Sign Language, combined with basic musical notation, the artist creates a humorous and poetic expression of her experience of sound. For example, in an eponymously named piece, Kim takes musical notations for decrescendo (piano and pianissimo) and, using the principles of word-building, achieves an astonishing similarity to the concept of sound and whose visual form resembles rather playfully that of sandwich.
What Kim hears and sees in Beijing, initiated her to rethink the connection between the past, present and the future. The sound installation "Game of Skill", she invites audiences to listen to a recording of a text she wrote regarding the future, though the customized handheld listening device makes hearing difficult; her hope is that this intentionally difficult listening experience will lead each individual to be aware of the passivity implicit in this everyday behavior.
About the artist
Christine Sun Kim was born in 1980 in Orange County, California. In 2002, she graduated from Rochester Institute of Technology with a Bachelor of Science. She received a master degree from New York's School of Visual Arts in 2006 and a master degree in music/sound from Bard College in 2013. Her recent exhibitions include "Silence, with Chelsea Knight", New Museum, New York, USA; "Almost A Score", Arnolfini Centre for Contemporary Art, Bristol, UK; "as well as Soundings: A Contemporary Score", Museum of Modern Art, New York, USA. She currently lives and works in New York, USA and Berlin, Germany.
WANG QIANG | FREMDE STADT
Wang Qiang's third solo exhibition "Fremde Stadt" will open on June 13th, 2015 at WHITE SPACE BEIJING. The exhibition will be showcasing the artist's most recent works in painting from 2014 to 2015.
In this exhibition, Wang Qiang did not elect to depict the megacity's towering buildings, scintillating nightlife, its bodies of its inhabitants, filled with consumer desire. Instead, the urban landscape he presents to us takes the form of rusty scaffolding; mountains of electronic waste so representative of the modern information age; and all works related to the sky carry a veil of unhealthy smog, depicting a momentary snapshot of the city that is at once unfamiliar yet realistic.
With the invention of photography, the artist's function has increasingly become that of discovering the differentiation between the banalities of everyday life and genuine emotion. Despite the fact that painting and the reality it depicts are connected in multiple aspects (such as the source of imagery and the choices of medium and painting tools, etc.), the practice of painting has always been of a parallel world. The focus of conventional painters and that of so-called conceptual art forms reciprocal perspectives, creating tensions that form today's very artistic landscape. There is usually no trace of a narrative in Wang Qiang's paintings; only the imagery bears the most basic responsibility on canvas, and the quietly harmonious colors create an essence that derives from the reality but does not resemble it. The seemingly flat surface of his painting style reveals the artist's understanding and appreciation of brushstrokes and layers – its calm rationality and composition create a sustained visual tension. The momentary, passing scenes are like soundless fragments that allow the viewer to glimpse reality but also redirect memory. Thus, Wang Qiang's painting is an intersection of reality and imagination. His brushwork, use of colors, and composition, far from weakening the realistic imagery in fact continually strengthens it. From this, we get two intertwined feelings, from which we progress to the perspective of the third phase of painting: a more far-reaching experience and perception based on the metaphors and symbolism Wang Qiang has created.
About the artist
Wang Qiang was born in 1971 in Beijing, China. He graduated from department of Print Making at Central Academy of Fine Art in 1997, and received his Akademiebrief degree in Fine Arts at Kunstakademie Düsseldorf in 2004. He lives and works in Beijing and Düsseldorf. His most recent show includes "Picture Perfect", Viasterna Arte Contemporanea, Milan, Italy.
About the exhibitions
Opening: June 13, 2015
Dates: June 13 – July 30, 2015
Venue: White Space Beijing
Courtesy of the artists and White Space Beijing, for further information please visit www.whitespace-beijing.com.
Related posts: