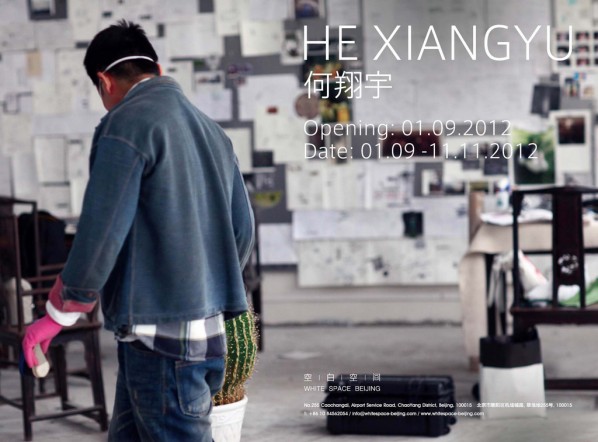 HE XIANG YU
Opening: 4PM,September 1st
Date: September 1st – November 11th, 2012
Intentionally avoiding setting an explicit title for this exhibition, the artist He Xiangyu chooses to make his individual "image" a viewing object, and shifts himself from being a narrator to be one of the viewers. He throws his materialization of the external world back to it, and makes the so-called "artwork" stop being some kind of personalized discrimination, while becoming some incident to run through those unpredictable, inevitable and different existential structures due to different time, space and people.
To He Xiangyu as an artist, this exhibition continuously shows his passion for exploring the symbolic world and his efficiency and ability to go back to the phenomenal world. While to He Xiangyu as an individual, this exhibition is also a deliberate retrospect and action to himself. Just like the implication of the miniature silicone sculpture (My Fantasy) he made according to his shape, he was trying to extract a structural other from viewing another self.
He Xiangyu was born in Dandong , Liaoning Province in 1986, currently lives and works in Beijing.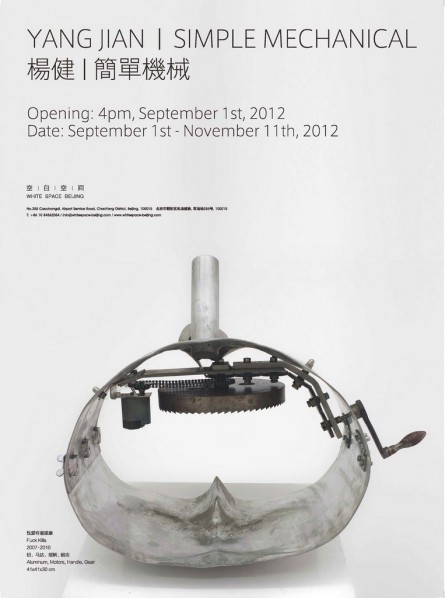 YANG JIAN | SIMPLE MECHANICAL
Opening: 4PM,September 1st
Date: September 1st – November 11th, 2012
Yang Jian' s solo exhibition "Simple Mechanical" will show the installation and video work of Yang Jian in the past three years, and also his performance during the opening, presenting his repeatedly elaborated while unique themes on elapse and destruction.
As the most universal representative of modern civilization, simple machines are the advocators of the entire discipline system, the extension and suppression of human beings. While taking on different looks, they are all produced to meet specific needs, and have unknown potential to be discovered. It seems they never feel tired: rolling, sounding, shimmering, keeping eating up numerous electric and human power to maintain their functions. They force people to get used to the depressed desire, so that they become unconscious of living in the cruelty, and exhaust themselves day after day.
Born in Fujian Province in 1982, Yang Jian graduated with an MA from School of Fine Arts, Xiamen University in 2007. He was elected into the International Artist in Residence program of The Dutch Royal Academy of Fine Arts during 2009 to 2010, and was offered the sponsorship from Dutch Stichting Niemeijer Foundation. He currently lives and works in Beijing and Nanjing .
Courtesy of the artists and White Space Beijing, for further information please visit www.whitespace-beijing.com.
Related posts: