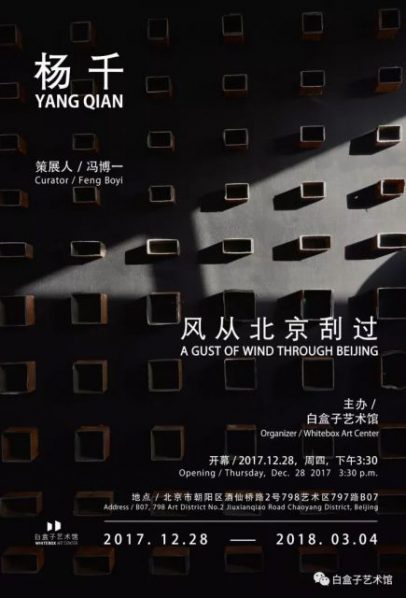 Whitebox Art Center is pleased to announce that "A Gust of Wind through Beijing", a solo exhibition of Yang Qian curated by Feng Boyi, will be on view from December 28, 2017 until March 4, 2018. This exhibition is another collaboration between Whitebox Art Center and Yang Qian after the artist's exhibition"Art is Poison: Yang Qian's Installations" in 2010. The exhibition will showcase Yang Qian's most recent works created in 2017 including "Cut","Ladder" ," Bell" and other three works of installation, sculpture and painting.
About the exhibition
Dates: Dec 28, 2017 – Mar 4, 2018
Opening: Dec 28, 2017, 3:30 p.m.
Venue: Whitebox Art Center
Courtesy of the artist and Whitebox Art Center, for further information please visit www.798whitebox.com.
Related posts: