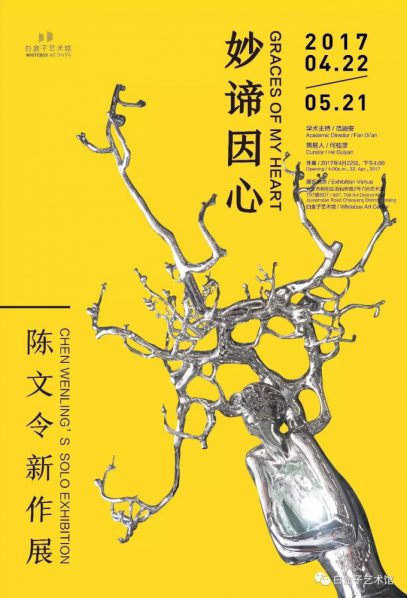 Whitebox Art Center is pleased to announce the exhibition, "Graces of My Heart – Chen Wenling's New Works" opening on April 22, 2017. This exhibition is academically hosted by Mr. Fan Di'an, and curated by He Guiyan. Considered to be Chen Wenling's most important solo exhibition in recent years, the show presents five new sculptures and drawings from the last decade.
Chen Wenling's new works are formally relevant to an earlier period of his art practice, while the essential impetus of sculpture making has departed. His earlier works maintained a dialogue between the artist and the context of his time. In his recent works on the other hand, the artist shifts to an approach that adopts the personal narrative, articulating the artist's visual representation on the understanding of life. Walking Man portrays a slander man wearing a gasmask, carrying peach blossom on his back, and embracing a crystal-like object, to convey the artist's new realm of understanding on art practice as part of life. The gasmask is an allegory for the pain brought by social symptoms, and the peach blossom on the man's back symbolizes the lyrical and determination in a chaotic environment of decay – the work is undeniably Chen Wenling's personal narrative in returning to one's own experiences.
Over the last decade, other than his focus on making sculptures, Chen Wenling has accumulated over thousands of drawing and sketches, a way of releasing emotion in times of solitude. These works comprise of the various aspects he has observed in art and life, as well as his wild imaginations. Through his liberal depiction of one's true sentiments, he discovered the rare moments to breathe smoothly as he translated his ideas between the two mediums: sculpture and works on paper, while they embody the artist's unsung diligence throughout his artistic career. This exhibition presents for the first time, 200 meticulously picked drawings.
The curator of this exhibition, He Guiyan considers Chen Wenling to be an artist working with unique style in the field of sculpture. The presentation of his sculptures and drawings he had made over the years allow the viewer to review the chronology and diversity in his art practice. Resonating with the high ceilings and architectural features of the Whitebox Art Center, the exhibition provides a great opportunity to revisit Chen Wenling's academic contribution to the field.
This exhibition is artist Chen Wenling's first collaboration with Whitebox Art Center and it will continue until May 21, 2017.
About the exhibition
Dates: Apr 22 – May 21, 2017
Venue: Whitebox Art Center
Courtesy of the artist and Whitebox Art Center, for further information please visit www.798whitebox.com.
Related posts: