Whitebox Art Center presents "Touch the Possible Shape–Exhibition of Yang Jinsong's Paintings(2016-2018)" in Beijing
by
Sue Wang
on
Apr 19, 2018
•
9:05 am
No Comments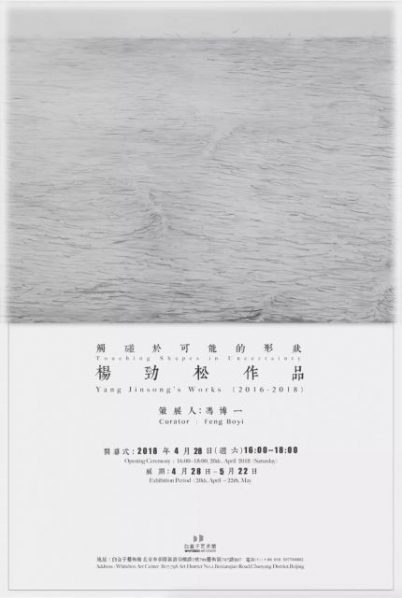 Sponsored by the Whitebox Art Center, planed by FengBoyi, "Touch the Possible Shape–Exhibition of Yang Jinsong's Paintings(2016-2018)" will be held at the Whitebox Art Center from April 28 to May 22, 2018. The 15 paintings show the latest exploration and appearance of Yang Jinsong's painting creation in the past two years.
Yang Jinsong's new paintings, using traditional Chinese cultural resources, has a fresh sense of language and context through the visual images of solar eclipse, clouds, water and trees, as well as the continuous purification of the painting language, practicing the Oriental feelings embodied in the artistic idea and mood. He deliberately created a effect of unifying of water and sky or the entanglement of willows and leaves, showing a gray, but the brush strokes and lines follow the rules of the traditional Chinese calligraphy. In fact, they hidden his sad complex and sigh of life, and resist a kind of real nihility.At the same time, we can also see the state of his open and free creation, which closes the gap created by many jumps, mixing the structures of different natural scenes into one. It shows that his painting has stepped out of the pursuit of "expressiveness", in a non-specific abstract relationship, highlighted a kind of "unstable" function, a kind of unmanageable change.
Yang Jinsong's uncertainty of this natural attribute is not a form, but a gradual change in the way of painting language caused by his experience and feeling of life. Perhaps for Yang Jinsong, the cultural memory that can not be transformed into a natural form is invalid, but his transformation itself changes the copies of the natural landscape. So, this is not so much a natural landscape created by Yang Jinsong, but rather a self-looking of his own memories and emotions, that can be referred to as the context of freedom and self-sufficiency. Investigating his painting process under this background, we can find out that Yang Jinsong's vision of creation is from the early direct realistic concern to the personal perception and awareness. Therefore, Yang Jinsong is one of the artists who do not fit into the popular art model. Or it could be said that Yang Jinsong's new works, as a case study of contemporary art ecology in China, provide a reference of visual samples for the contemporary transformation of painting.
About the exhibition
Dates: Apr 28, 2018 – May 22, 2018
Venue: Whitebox Art Center
Courtesy of the artist and Whitebox Art Center, for further information please visit www.798whitebox.com.
Related posts: