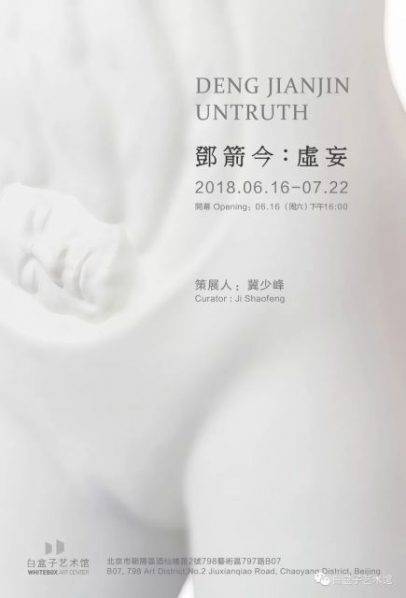 Whitebox Art Center announces that Untruth: Deng Jianjin's Solo Exhibition will open on June 16, 2018. Curated by Ji Shaofeng, this exhibition is the first-ever collaboration between Whitebox Art Center and artist Deng Jianjin. The Exhibition will showcase some ten artworks by Deng during 2012 to 2018. Combining Whitebox's unique space and the spiritual dimension in Deng Jianjin's works, Untruth will bring to you the artist's sincere thoughts and passionate expressions toward the rapidly-changing realities in our contemporary society.
Deng Jianjin is an artist dedicated to "Body Narratives." With his clustering and description based on the main lines from urban plots to relationships between men and women, violence, eroticism, desires, and group consciousness, Deng expresses those secret emotions of humans using body symbols. Through these signs and expressions of bodily taboos, Deng Jianjin also explores a kind of power awareness. Looking back at his past oeuvres, we could not find any standardized language of oil painting but his inner impulse to the narration in an attempt to focus on body and then decompose it, shaping Deng's uniqueness of creative form. Especially for Untruth: Deng Jianjin's Solo Exhibition, the artist once again borrowed the notion of "body" and hence finished his newest work My Girl. This piece of art is consisted of 12 half-naked women made of Blanc-de-Chine and is neatly arranged on the wall of the main exhibition hall. Deng Jianjin has engraved erotic words on the white porcelain women's dissected organs and has placed "himself" as a sleeping man inside "uterus," making it a sharp contrast between the faces of these female characters with teardrops and dazed emoticons. In a time when people are ashamed to talk about erotics, Deng Jianjin dares to face up to this taboo. Straightforwardly, Deng makes an inevitable compromise to the reality of survival and desire. It is also his revolt against pressure, which shows the autocratic domination of desire, the dominance of reason over the body, and the dominance of patriarchal power over women.
Deng Jianjin believes that original sin and principal crime stemmed from the body and that they are carried out by this cage of the soul. Therefore, after his urban-plotted paintings, Deng gradually emphasizes those bodily narrative traits and erotic features of his works. In his paintings, absurd scenes, distorted bodies, and dissonant background colors make the women fragile and sensitive; More than these, erotic bodies in Deng's works are fresh yet virtual, serving as the lives been pondering, as well as a real expression of individual experience. Only this expression is a kind of psychological truth, and it is a real transformation from the reality of the mind to the reality we live in, and the facts of life as well. Moreover, It is the authentic expression packed with the virtual experience, extreme personal experience, and concealment.
Deng Jianjin has depicted a string of scenes as psychedelic and erotic space. Among his works, Deng metaphorizes the pent-up freedom and the pursuit of a free lifestyle, at the same time utilizing bodily markings to reveal the anxiety and reality of survival. In a consumerism era where popular culture and people's unfulfilled desires run rampant, it seems that, through Deng's eyes, we could see through every deception, the nature of life, and the dark side of the society. Deng has taken social and artistic responsibilities with his "chivalry."
About the exhibition
Dates: Jun 16, 2018 – Jun 22, 2018
Venue: Whitebox Art Center
Courtesy of the artist and Whitebox Art Center, for further information please visit www.798whitebox.com.
Related posts: