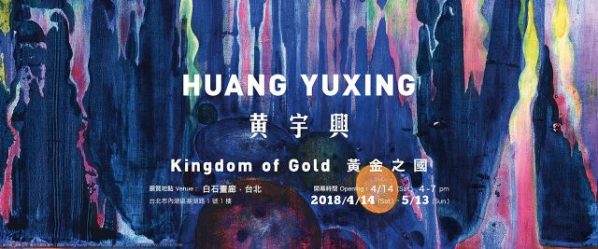 "Count no man happy until the end is known." (Greek maxim)
 
Whitestone Gallery Taipei presents the exhibition — Kingdom of Gold, Huang Yuxing's first solo exhibition in Taiwan. This exhibition features 15 recent works focusing on the latest changes and different phases of his creative journey, and will remain on view through May 13, 2018.
Huang Yuxing was born in 1975 in Beijing, he graduated from the Department of Mural Painting at the Central Academy of Fine Arts in 2000, currently lives and works in Beijing. He uses an extinguish system of fluorescent colors to reflect his different states in life, he once said that fluorescent colors have a powerful vitality that seemed to have been condensed or highly evoked. His works are composed of either repetition of a deformed individual element, or reconstructed / integrated various elements. He constantly tries to bring up new visual experiences, however, the idea of "understanding of others" remains the fundamental theme of his creation.
In his recent works, he focuses on the inner tension between "the eternal cycles of time" and "complexity of human nature". In the long course of human history, there have been many great civilizations that have crowned with the name of "golden kingdom", this is also an excellent metaphor for the era in which we live. However, all the "golden kingdom" is inevitably destined to ruin and come to nothing – as the result of the fall of men.
In this regard, the image of "men" once again appeared on Huang Yuxing's canvas and returned to our gaze. If the human body can never be free from the limit of immortality, does the individual's choice remain significant? Could such limit of man still be a cornerstone of his existence? In the face of the bitter inquiries, "Kingdom of Gold" is like a beam of light projecting towards the gloom of quiet land, providing us the possibilities of a certain comprehension and understanding.
About the exhibition
Dates: April 14 – May 13, 2018
Venue: Whitestone Gallery
Address: 1F, No.1, Jihu Rd., Neihu Dist., Taipei City, 114, Taiwan
Courtesy of the artist and Whitestone Gallery, for further information please visit www.whitestone-gallery.com.
Related posts: