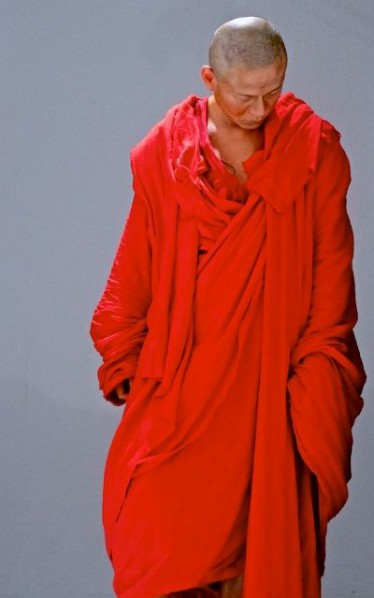 Tsai Ming-liang is a consummate master of slowing down time, a filmic painter of grandiose tableaux woven from memories, dreams and reality. At least since the assignment of the 1994 Venice Film Festival's Golden Lion to this Chinese-Malaysian director for his Vive l'Amour, he is considered a key exponent of international auteur cinema.
Wiener Festwochen will dedicate a special exhibition segment to Tsai Ming-liang. His short-film series Walker, in which Lee Kang-sheng personifies a monk crossing crowded urban sites with almost painful slowness, will be shown as a video installation in selected Viennese locations. The Künstlerhaus Passagegalerie, a semi-public exhibition space, will be transformed into the video installation It's A Dream. The Stadtkino cinema at Künstlerhaus will show a retrospective of his cinematic works that will range from the brilliant Rebels of the Neon God (1992) to Stray Dogs (2013), which won the Grand Jury Prize at last year's Venice Film Festival. Cinema and film as counterweights to the lack of focus in our everyday world.
Tsai Ming-liang's solo turn at Wiener Festwochen will be complemented by his stage production The Monk from the Tang Dynasty performed at Semperdepot.
Films
No Form
2012, video, colour, 20 min.
Walker
2012, video, colour, 25 min.
Sleepwalk
2012, video, colour, 20 min.
Diamond Sutra
2012, video, colour, 20 min.
Walking on Water
2013, video, colour, 29 min.
Journey to the West
2013, video, colour, 53 min.
Leading Team and Cast
Films by Tsai Ming-liang
With Lee Kang-sheng
Production
With the kind support of the Ministry of Culture of Taiwan
More information can be obtained from late April 2014.
Free admission
Tel: 0043-1-5892222
Courtesy of the artist and Wiener Festwochen.
Related posts: