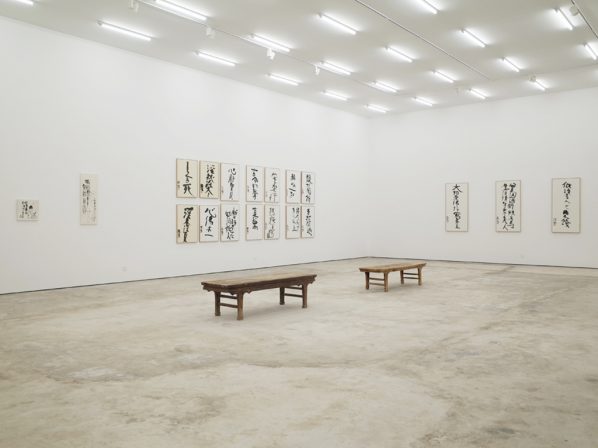 aura gallery beijing presents 'Wind in the Sky (天上大風)', an exhibition of recent works by internationally admired Japanese artist Araki Nobuyoshi (荒木經惟b. 1940 – ), consisting of fifteen fresh painted photographs and twenty calligraphies made as a homage to Chinese artist Zhu Xinjian (朱新建1953 – 2014). The centerpiece of the exhibition, Araki's latest series 'IMSHU: Heart Sutra', is printed on Washi (Japanese paper) and handwritten paragraph of Heart Sutra. This unique and most ambitions work by the artist to date, inspired by Zhu and 'emptiness' in Heart Sutra, will debut with a selection of Zhu's ink paintings.
'Wind in the Sky' originated with Zhu's works, he had been known for illustrating various scenes in the erotic novels and provoked a great stir throughout Chinese society. Generally associated with the 'New Literati School', which in the mid-1980s sought to regenerate China's ink painting tradition, Zhu deploys ink on paper to focus sensuality of life, death and women. His monographs were passed on to his similar – Araki in 2015, who later stated: 'I admire people having a bone on, Zhu is the kind'.
To pay homages to Zhu, Araki started the experiment with printing images onto Japanese paper to imitate texture of ink paintings. In the past he wrote the words of Kafu Nagai, Santōka Taneda, Hokusai and etc. on his photographs, but for the first time he inscribes Chinese Buddhist scriptures with a narrative but powerful expression. 'IMSHU:Heart Sutra' articulates Araki's physical and mental drives and feelings, candidly confronting loss, death and rebirth.
'Wind in the Sky: Araki Nobuyoshi and Zhu XinJian' will remain on view through November18th. The exhibition is accompanied by a fully illustrated catalogue.
About the exhibition
Dates: 28 October – 18 November 2016
Venue: aura gallery
Courtesy of the artist and aura gallery, for further information please visit http://aura-art.com.
Related posts: