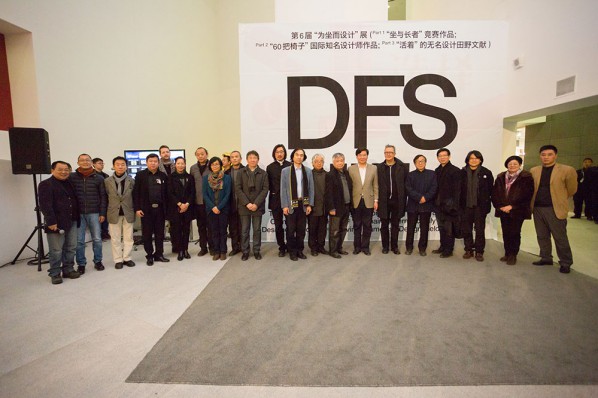 Hosted by CAFA, the 6th "Design for Sitting Exhibition" Competition launched a press conference and opening ceremony in the CAFA Art Museum on January 10, 2014. This design exhibition is divided into three parts: "Sitting & the Senior" Competition, "60 Chairs" Invitational Exhibition of Internationally Renowned Designers' Works, and the "Living" Nameless Design Field Documents.
The press conference of the 6th "Design for Sitting Exhibition" was presided over by Song Xiewei, Walkersville, Vice President of Staatliche Akademie der Bildenden Künste Karlsruhe, famous Japanese designer Masayuki Kurokawa, Zhu Xiaojie, President Chief Designer of Opal Furniture Design, Prof. Shi Zhenyu from the Academy of Art & Design, Tsinghua University and Prof. Jiang Li from the 9th Studio of the School of Design, CAFA attended the press conference. The guests answered all the questions about the preparatory process and selection standard which were raised by the presented media.
"Design for Sitting Exhibition" has been held for 12 years, the theme of the competition is "sitting & the senior citizens", "the senior citizens" refers to people who are older than us, our lives, life, and growth are inseparable with them, inspired by the coexistence with the senior generation, participants can express their design ideas about "sitting" behavior and "chair" around their own living environment or growing process. Jury members include: Tan Ping, Walkersville, Masayuki Kurokawa, Benjamin Hughes, Mitamura Arisumi, Shi Zhenyu, Zhu Xiaojie, Liu Guanzhong, Wu Xi, Shao Fan, Jeff Dah-Yue Shi, and Jiang Li, using democratic vote to select the winners in the collection of more than 120 pieces of works, giving birth to 14 prizes: one Gold Prize, two Silver Prizes, three Bronze Prizes, five Outstanding Prizes, one Best Creative, and two Best Productions.
After the press conference, Prof. Xu Ping introduced the situation of the activity and the honor guests at the opening ceremony. Gao Hong, Party Secretary of CAFA, Chairman of Vita Furniture An Zhongyan, a representative of sponsors, jury chairman Vice President Tan Ping, and Qi Lin, Chairman of Beijing Roling Creative Furniture successively addressed. All the honored guests thanked the related sponsors and preparatory staffs for successfully holding the competition.
Following that the presented guests awarded certificates to the winners. Gold Prize: "Giving and Feeding" by Li Yan; Silver Prize: "Boxes for Stool and Table" by Liu Yanan, "Crutch • Chair" by Xiong Zixin and Cui Qiang; Bronze Prize: "Knitting Warm Memory" by Kang Yue, "Bag Chair" by Yang Xiaoyan, "Uprightly Sitting Chair" by Xue Yannian; Best Creative: "Melaleuca Chair" by Zhang Han; Best Production: "Taixu (Tao)" by Wang Peixuan, "Love Chair for Subway Cleaner" by Wang Yiren and You Donghe; Outstanding Prize: "Recalling" by Shi Dantong and Lin Fanglu, "Companion" by Zhang Keren and Hou Xunan, "Washboard Stool" by Chen Jie, "Walking Mazha(Folding Stool)" by Wei Tao, "Kitchen Chair" by Shen Yuanyuan. In addition, it awarded three Group Organization Prizes, a Special Contribution Prize, an Outstanding Teacher Prize and six Corporate Sponsorship Prizes.
There was a ceremony for famous Japanese designer Masayuki Kurokawa to donate his work to CAFA Art Museum at the end of the opening ceremony. It evolved according to the idea of Japanese tatami, and he performed it through the image of the leg of elephant after 30 years of deliberation. Vice President Tan Ping awarded Masayuki Kurokawa a donating certificate and thanked him.
"Design for Sitting Exhibition" is held every two years, in addition to the competition exhibition, the Invitational Exhibition of Internationally Renowned Designers' Works, and the "Living" Nameless Design Field Documents, it launches a series lectures related to design. The 6th "Design for Sitting Exhibition" showcases a full range of design knowledge to the supporters and followers of original design.
Journalist: Ye Yuanfeng, Photo: Hu Zhiheng/CAFA ART INFO
Translated by Chen Peihua and edited by Sue/CAFA ART INFO
Related posts: