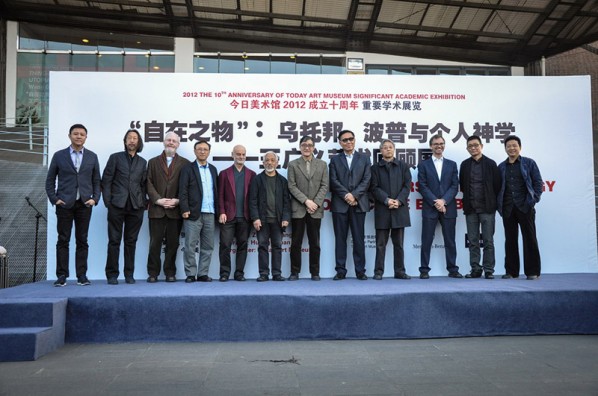 October 14 (Sat.), with the grand opening of Wang Guangyi's retrospective exhibition "Thing-in-itself: Utopia, Pop and Personal Theology", Today Art Museum celebrated its 10 years anniversary in Beijing.
Wang Guangyi has been one of the most representative artists in Chinese modernist art history since the 1980s. His artistic path embodies the complex paradoxical logic of Chinese contemporary art's progression from its era of enlightenment to avant-gardism, postmodernism and consumerism, but for a long time, critique and research of him has been misconstrued and limited by cold war critical discourse and the commercial capitalist interpretation that is "political pop." There is a need for an individual case study that takes the history of Chinese thought and visual culture into account.
The exhibition comprises a retrospective component and a themed exhibition component. The retrospective component consists of three segments: "Imagining Cultural Utopias – the Logic of Creation", "From Analysis to Pop – Revision and Requisition" and "The Mythology of Materialism – Material and Form," presenting a temporal trajectory that spans thirty years of Wang Guangyi's most representative works from the 1980s to the present. The exhibition includes such oil paintings as Frozen North Pole (1985), Post Classical – the Death of Marat (1986), Black Rationality – Analysis of Purgatory (1987), Mao Zedong No. 1 (also known as the Mao Zedong AO sketch) (1988), and Great Criticism – Marlboro (1994) and such large scale installation works as Visa No. 2 (1994), Foundational Education No. 2 (1996) and Cold War Aesthetics (2008). The exhibition also presents a large number of previously unreleased documents, such as plans, sketches, videos and photographs. The themed exhibition component features the large scale installation work Things in Themselves, which the artist is creating for this exhibition.
Distinguished guests who have been present at the opening ceremony of "Thing-in-itself: Utopia, Pop and Personal Theology" included: Zhang Zikang, Director of Today Art Museum, Gao Minglu, Director of Art Institute of Contemporary Art at Tianjin Academy of Fine Arts and Research Professor, Department of Art History and Architecture at University of Pittsburgh, Li Xianting, the "Godfather of Chinese Contemporary Art", Wu Hung, Professor at the University of Chicago, Dr. Marko Daniel, Convenor of Adult Programme (Tate Modern and Tate Britain, since January 2011) and Curator of Public Programmes at Tate Modern from May 2006, artist Wang Guangyi, curator Huang Zhuan and so on. Successively, they addressed to the audience at the opening.
Zhang Zikang, Director of the Today Art Museum opened the proceeding in a felicitous speech, "Wang Guangyi is one of the representatives of the contemporary art since the 85 New Wave Movement, who has embraced with specific feelings in his works while shaping the group doubts belongs to this epoch with his distinctive symbols and icons. His explorations is not from a positive or negative angle of view, but through these seemingly absurd chaos of visual language related to the routine he intends to convey his questions and recalls about the era. This exhibition is not just a series of study and retrospective on Wang's personal art. Through his works, we can perceive this kind of independent spirit, which makes the space of this exhibition become a study of literature, providing a platform of multi-party communication.
Gao Minglu indicated that, "Wang Guangyi is among the few artists who have influenced the development of Chinese contemporary art and he is one of chief commanders of 85 New Wave Movement. He has influenced several generations of artists with his own ideas and concepts thereafter. From his Northern Base Series, Post-classical Series to his political pop art, all reflect his unique thinking. He keeps on reflecting on them or even denies his own artistic creation. Such a kind of artists is few in number in the history of Chinese contemporary art. Mr. Huang Zhuan has specially mentioned 'Utopia', 'Pop' and 'Personal Theology' in the title of this exhibition. These three concepts have comprehensive meanings since they basically outline the several most important issues in the history of human thoughts since the Enlightenment. To sum up his creations in the past two or three decades with these concepts, it can reflect that Wang Guangyi has been trying bringing his thoughts on society and cultures to his works.
As the international guest of this exhibition, Marko Daniel believed that this exhibition has its special significance for both the domestic and international art community. It exhibits the coherent creativity of Wang Guangyi which allows us to re-examine and relocate the role Wang has played in the international and Chinese art worlds. He would like to mention in particular the selection of the works exhibiting are brilliant since all the representatives works of the artist along with his development have been selected to display in Today Art Museum, which provides a completely new angle to reconsider this artist from all sides.
During its opening ceremony, the Today Art Museum has invited directors of museums of contemporary art, curators and researches to visit and conduct academic exchanges to promote the high-level communications between Chinese contemporary art and those of the world. It is going to tour to Europe, the United States and other place in Asia after its exhibit in Beijing. It will be in Beijing till December 26.
Related posts: