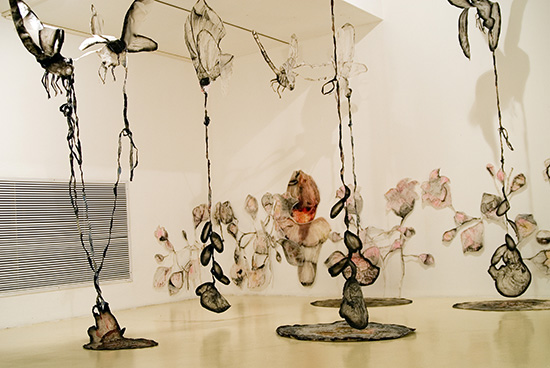 The history of Israeli art is over a hundred years old, beginning with the first immigrant of the country, developing in the gradually forming community lifestyle and cultural structure. The rise of Israeli art fully demonstrated that, it's a global language of expression of contemporary art, while it generates inspiration from different environments.
Painter Alima Ritta, born in 1932, died in 2013, is one of Israel's most famous artists, a pioneer of Israeli printmaking art. Since the mid-1950s until now, she has always explored the use of funky, abstract painting language to express the infinite charm of nature and pure simple emotion, going beyond the pure abstract form. Starting from 2005, Alima went into a mature creation "Black Period", using strong black color as the key tone, with a variety of simple minimalist shapes and symbols to present the scenes of memory – parallel lines are just like rows of cypresses; the horizontal curves are like mountains or waterfalls; intense shadows are like a marigold field.
Mixed media artist Ruthi Helbitz Cohen, born in 1969, creates works on the themes of youth, innocence, woman, as well as the loss and anxiety caused by these factors. She created a "Midas-touched" "mixed media" – imposing some exotic materials such as fabric softener, coffee grounds, paint, etc., on tracing paper. The transparent tracing papers are pasted and colored, while transformed into three dimensional distinctive images such as human organs, bread, fish, etc. It seems that these three dimensional works invite the audience into the imaginary space inside the human body, meeting the inside endless killing and recovery, to recognize human's inner world.
Alima's works without a frame emphasize the harmony of the surrounding space; Ruthi's layers of papers are transparent and full of penetration. Their arts have exceeded the ordinary two dimensional works with no spatial features. By experiencing the 51 works produced in different visual media by the two artists, the audience is capable to appreciate the panorama of Israeli art as related to Western art traditions and the Jewish Israeli art trends.
About the exhibition
Duration: August 15 – September 1, 2013
Special Activity: Visit the Exhibition Together With the Artist
Speakers: Yaniv Sabira, Ruthi Helbitz Cohen
Time: 15: 00 pm, August 15, 2013
Venue: Hall 5, Guangdong Museum of Art
Courtesy of the artists and Guangdong Museum of Art, for further information please visit www.gztriennial.org/home/en/.
Translated by Chen Peihua and edited by Sue/CAFA ART INFO
Related posts: