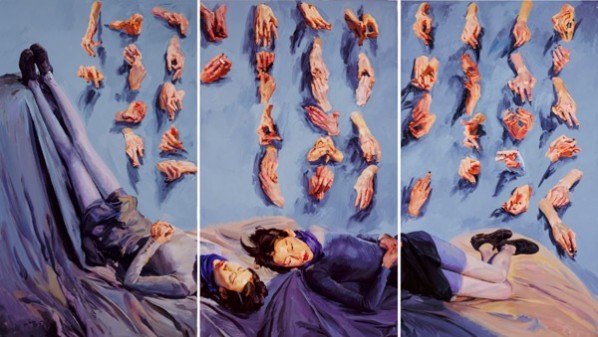 Long March Space is pleased to present Yu Hong's solo exhibition Wondering Clouds featuring her recent oil paintings. The exhibition will be on view from 23 November through to 29 December, 2013.
Yu Hong (b. 1966, Beijing) studied oil painting at the Central Academy of Fine Arts in Beijing, China, during the 1980s. It is here that she continues to teach her painterly skills, initially grounded in the techniques of Social Realist painting (which was common in art academies in China at that time), but has since developed into her own recognized visual language anchored in the depiction of the human figure.
Yu Hong centers her practice on her experience as a woman, taking inspiration from both her own life and the lives of others around her. The world that she creates through her art encapsulates a sense of time and memory that is intermingled in the delicate, often domestic scenes that she portrays, resulting in large-scale works that are personal and emotionally reflective. Working on canvas, silk or resin, with oil, pastel or fabric paint, Yu Hong frequently uses photography as a starting point for her work, at times incorporating this medium into the final piece. Interested in how our recollection of the past is enhanced or diminished through the camera lens, Yo Hong places the photographed subject in direct relationship with its own painterly image and thus examines the power or subjectivity in memory.
About the exhibition
Duration: Nov 23, 2013–Dec 29, 2013
Venue: LONG MARCH SPACE
Courtesy of the artist and Long March Space, for further information please visit www.longmarchspace.com.
Related posts: