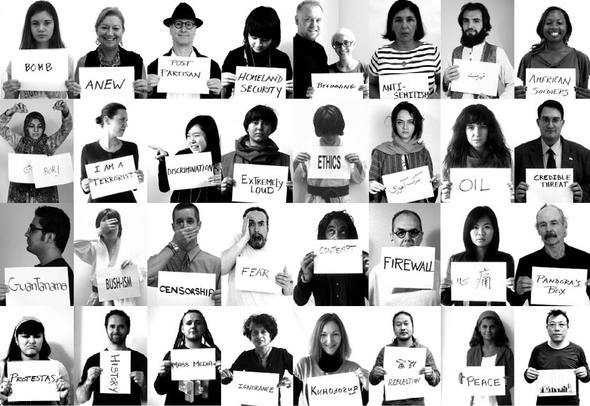 Words We Have Learned Since 9-11 is a unique participatory photographic project by Los Angeles visual artist, Clayton Campbell. Words originated in 2004 when he began the project with his son. Since then, it has created a visual conversation between various international communities about how people view themselves in a post "9-11" reality through learned or re-contextualized language. Public participation remains at the core of Campbell's project. Exhibition visitors are invited to participate by first identifying words they have learned or gained new meaning since 9-11, and then being photographed and instantaneously installed into the exhibition. The photographic series has grown in size to over 1,000 images and has been seen in numerous museums worldwide since 2004.
Given the naturally elastic nature of the exhibition's content, Words is able to extend a conversation beyond the confines of the 9-11 context. Ten years after the attacks on New York's World Trade Center, the exhibition, curated by Zandie Brockett, will be shown in China for the first time at Three Shadows Photography Art Centre. Considering natural tendencies for perceptions to be based upon geographic regions or cultural experiences, the exhibition's expansion into China will unfold a discourse that contrasts with its Western and Middle Eastern counterparts. Brockett intends to engage a Chinese audience in a dialogue that discusses the byproducts of a developing world-power during the post-9-11 decade as well as the indirect impacts of September 11th on China's increasingly globalized society, economy and foreign policy.
Campbell collaborates with local artists to assist with the implementation of the participatory aspect, and also to provide a community outlet so that locals may be exposed to the images and dialogue. The opening of this exhibition comes after the commencement of its participatory aspect during the opening week of Caochangdi PhotoSpring—Arles in Beijing, April 2012, which was conducted by Brockett, who is also serving a collaborating artist.
Clayton Campbell is a well-known artist and new media photographer in Los Angeles, California. His work has been exhibited internationally and is widely collected, as he is recognized for his art works and projects involving social commentary. Campbell has been the director of several important arts organizations including 18th Street Arts Center, Los Angeles and Res Artist, the international association of residential arts centers. A widely published arts writer, he contributes to Contemporary Magazine and Flash Art International. In 2002, Campbell was awarded the distinction of Chevalier in the Order of Arts and Lettres by the French Government for his work as an artist and arts organizer. To discover more about Campbell, visit www.claytoncampbell.com.
Zandie Brockett is a Beijing-based curator, consultant and photographer from Los Angeles. She is now working on several projects, including the development and production of HONG轰, a self-sustaining platform that provides emerging artists with a way to support the production, exhibition and sale of their artwork. Currently, Brockett writes a monthly column on the Beijing art scene for the international website, JingDaily. She also works at Liu Xiaodong's studio as his international liaison. To read more about Brockett, visit www.thezandieproject.com.
About the Exhibition
Opening: Saturday, October 13, 2012, 15:00
Duration: October 13 to November 3, 2012
Open 10:00 to 18:00, Tuesday through Sunday
Location: Three Shadows Photography Art Centre, No. 155A Caochangdi, Chaoyang District, Beijing 100015
"Words We Have Learned Since 9-11" Interactive Photography Sessions
Time: October 13-14, October 20-21, 14:00-17:00
Location: Three Shadows Photography Art Centre (Hall 3)
Courtesy of the artist and Three Shadows Photography Art Centre, for further information please visit www.threeshadows.cn.
Related posts: