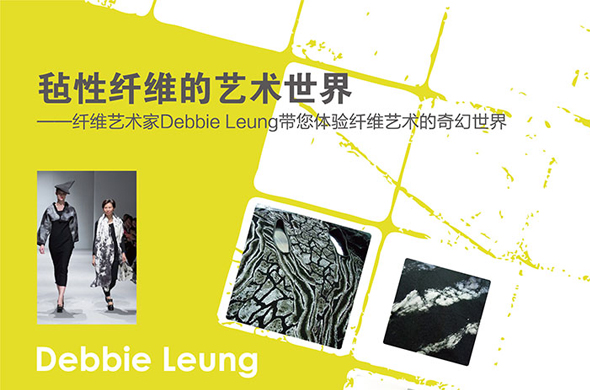 A workshop on Felt's Art World organized by the Department of Fashion Design, School of Design at CAFA was brought to a successful close on March 22, 2013. A closure exhibition was an initiative that was a response by the classmates along with a tea break which was held at the teaching workshop of the Department of Fashion Design, Building 7 of CAFA, which attracted many undergraduates interested in fiber art.
During the two weeks' workshop, Debbie Leung led the students into a fascinating world of fiber art. By passing on various techniques of felt making, Debbie Leung has run a fashion campaign on crazy about wool. Also, her design philosophy with zero pollution has aroused in-depth thoughts on the concepts of art and ecology.
Debbie's infatuation with hand made objects that convey to users the culture, skills and emotions of the artisan, has brought her to experiment with many different media. Her wearable art evolved from her extended experience in ceramics, glass and mosaic. These media reinforced her admiration and expression with colours, lines, forms and texture.
When she was first introduced to felt making in New Zealand, she was fascinated by the exquisiteness, pliability, versatility and functionality of the material. Felt is believed to be the oldest manmade fabric in history. By using the simplest tools, hands and water, creativity is virtually inexhaustible. Be it a traditional pieces of clothing, contemporary work of art, 2D or 3D, subtle or expressive. Felt has much to offer both to artists and end-users.
A strong banding with silk, with which she grew up, she often employ "nuno"technique( fusion and lamination of wool and silk) in her work. The wonderful marriage of the two materials provides felt a brand new and modern identity that suits all weather conditions and occasions.
Text and Photo by Che Jing/School of Design at CAFA
Translated and edited by CAFA ART INFO
For further information of Debbie Leung, please visit www.debbieleung.com.hk.
Related posts: