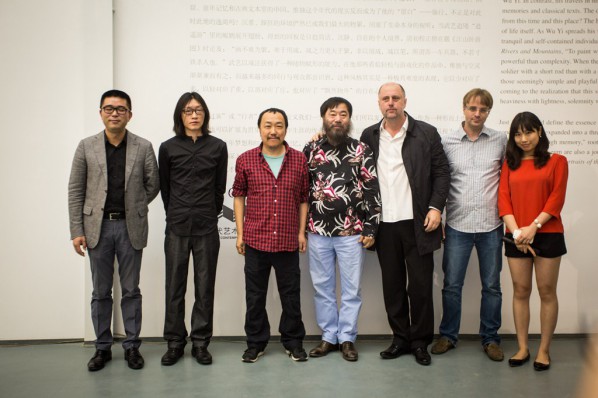 At 4:00 pm on June 1st, 2014, Wu Yi's solo exhibition "A Carefree Excursion" opened at the Hive Center for Contemporary Art, and guests Xia Jifeng, Director of the Hive Center for Contemporary Art, curator Zhu Zhu, artists Wu Yi and Li Jin were present at the opening ceremony.
The exhibition is composed of four themes: the "Local Tour", "Foreign Tour", "Tour of Memory", and "Tour of Text", to feature ten units: The Paris Dairy, No.9 Fuxing Road, Aschaffenburg, Ofuna Station, Lingering, Passing Through, etc. It is presented as a collective show of one man, featuring the works of diverse styles, covering ink paintings, oil paintings and watercolor painting, created in the last 12 years, as well as the related texts and notes. Curator Zhu Zhu said: the tour ran through the whole creative path of Wu Yi, and his tour included not only long distant physical travelling, but also the carefree travelling of text and thought.
The works created through the journey are small, Wu Yi applied on-site sketches in daily environments, according to a unique temperament of the place and chose creative materials and techniques. His paintings included a kind of charming calm and humorous wit, a small scene showing clear thinking and comprehension of the big environment. In addition, it also contains the thinking of native and foreign lands. While the "New Mapo" series came from his childhood dreams and memories of the red films; when painting the "Dwelling in the Fuchun Mountains" he completely put aside the personality to experience the attitudes of the ancient people with links to nature and the coordination of the brush and ink. This kind of cognition to the traditional culture also reflects the "Portraits of Sages".
The show will last until July 6.
Text by Zhang Gaoshan, translated by Chen Peihua and edited by Sue/ CAFA ART INFO
Photo: Yang Yanyuan/ CAFA ART INFO
Related posts: