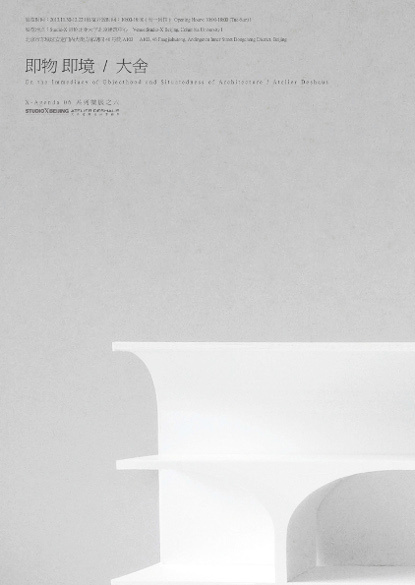 Architecture in China has been burdened for too long and too much of things extraneous, which inevitably weakens its disciplinary strength. To care about the immediacy of Objecthood and Situatedness of Architecture, to us, holds a positive value in our practices. After all, we humans still perpendicularly and directly put two feet on the earth. And that is why even the simplest gesture of support and shelter can create a sense of permanence.
The exhibition opesn on November 30 and closes on December 22.
X-Agenda Micro-Exhibition Series
Situated in a society that is going through unprecedented changes, the new generation of architects in China today is faced with multi-faceted challenges, while at the same time blessed with abundant opportunities. What should we take on? Why do we do it? How to do it? Besides indulging ourselves in the daily practices through space, form, material and so on, we must constantly reflect on the very motivation behind our endeavors in this tough profession, with the hope to constantly realign the focus of our practices.
Columbia University GSAPP'S Studio-X Beijing initiates and supports a series of micro-exhibition titled "X-Agenda", which aims to advance the awareness and self-reflection of a new generation of Chinese architects and designers' practices. X-Agenda will focus on the state of thoughts and ideas, statements and directions under our current circumstance. It hopes to make space for deep thinking against the hectic design practices in general. Through different angles, it tries to gain insights into a collective future for the new generation. The individual exhibitions will be micro; the collective impact can be macro. X-Agenda warmly invites participation and critique.
About the exhibition
Duration: Nov 30 – Dec 22, 2013
Venue: Studio-X Beijing
Opening: Nov 30, 2013 Sat 16:00
Opening Hours: Tue-Sun 10:00-18:00
Add: A103, 46 Fangjia Hutong, Andingmen Inner Street, Dongcheng District, Beijing
Courtesy of Studio-X Beijing.
Related posts: