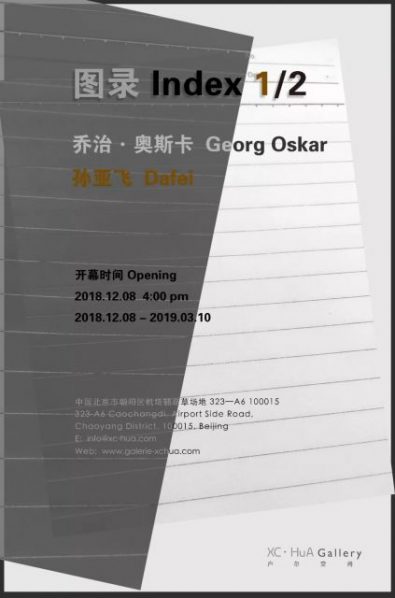 XC. HuA Gallery will bring the art project "Index 1/2" together with the Icelandic artist Georg Oskar Giannakoudakis and Chinese artist Dafei to Beijing. In the form of a documentary guide, the project will display the aesthetic language of the two artists in an unconventional way to the audience. Exploring the possibility of "real world " through the various creative techniques of the two artists who are representing different cultural backgrounds, creating the similar but distinct intercommunication in different time and space contexts.
The Index 1/2 project will continue until 10.03.2019, in conjunction with the dynamic live creationin the exhibition space, the Chinese artist Dafei will carry out the continuous creation and exhibition guidelines in the first half. In the middle or later stage of the project, the Icelandic artist Georg Oskar Giannakoudakis will take over the second half of the creative exploration. "1/2" represents the exhibition form of the project, which is jointly created by two artists at different periods. It also shows the two artists as part of the group of young generation artists, under the new realistic benchmark, they will re-examine and innovate the expressionism in the state of progress.
At the same time, more questions are also expected to be presented: Is the core of the "real" concepta false proposition? Can the space that we see prove the existence of "reality" Does the world as a huge space for the great freedom of existence also limit the boundaries of freedom with the concept of "reality"? "1/2" is also the common answer of these two artists: perhaps it is never possible to glimpse the whole picture of "reality." However, the process of exploration constitutes part of the reality of this world; the self-exploration of independent living bodies is thus intertwined; the unfinished dynamics hide the countless possibilities.
About the exhibition
Dates: Dec 8, 2018 – Mar 10, 2019
Opening: Dec 8, 16:00pm
Venue: XC. HuA Beijing
Courtesy of the artists and XC. HuA Beijing, for further information please visit www.galerie-xchua.com.
Related posts: