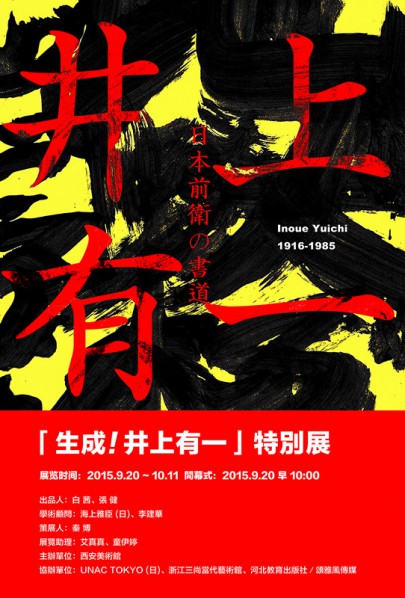 Planned by Qin Bo, the special exhibition entitled "Generation! Inoue Yuichi" will be the first exhibition featuring modernist calligraphy in the Northwestern China, and the exhibition will combine his works with literature in Xi'an Art Museum, to present 27 pieces of work by calligrapher Inoue Yuichi in different periods spanning 27 years.
Inoue Yuichi is one of the most important Japanese artists of the 20th century and his name is mentioned with the likes of Franz Kline, Robert Motherwell, Pierre Alechinsky and Henri Michaux. The critic Herbert Read discusses YU-ICHI in his work "A Concise History of Modern Painting", which also includes one of his paintings. Robert Motherwell even describes him in his notes as one of the few great artists of the second half of the 20th century.
Although Inoue Yuichi's contribution to the documenta II in Kassel in 1959 and participation in exhibitions held at the Stedelijk Museum in Amsterdam and the Kunsthalle in Baden-Baden in 1963, and the Galerie Zwirner in Cologne in 1965 certainly boosted his popularity, he eschewed taking part in exhibitions on a regular basis, preferring instead to devote his energies to the artistic, creative process. His extremely self-critical attitude and assessment of his works and his practice of destroying everything he found to be "inferior" meant that his entire estate was able to be published in a three-volume catalogue of his work.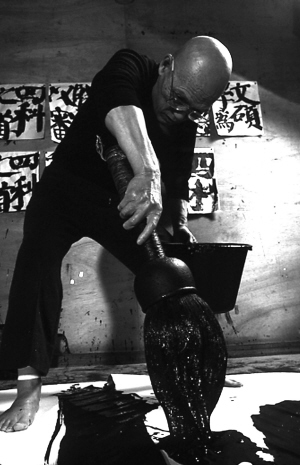 Inoue Yuichi conveys his artistic energy through logographic "kanji" characters, which he uses as a metaphor for communicating his artistic message, his internal state. His focus is not on the aesthetics of the characters, but rather on the unfettered development of his inner power as directly expressed by the writing. He overcomes traditional calligraphy in favor of radical expressiveness. He gained international recognition as an artist early on, as evidenced by his participation in important exhibitions: Kassel; National Museum of Modern Art, Tôkyô and Kyôto; Museum of Modern Art, New York; Stedelijk Museum, Amsterdam.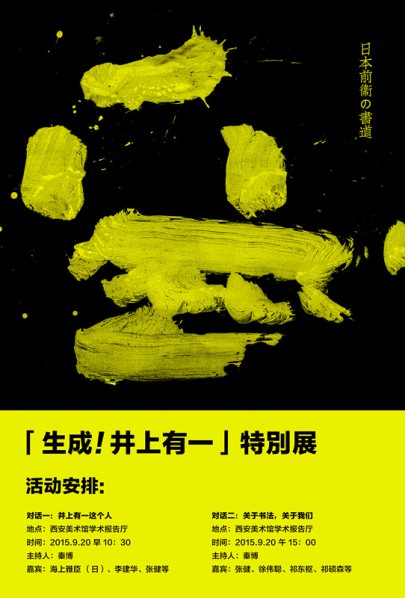 About the exhibition
Dates: September 20 – October 11, 2015
Opening: September 20, 10:00AM
Venue: Hall 3, Xi'an Art Museum
Producers: Yang Chao, Bai Qian and Zhang Jian
Academic Advisors: Unagami Masaomi and Li Jianhua
Curator: Qin Bo
Courtesy of Xi'an Art Museum, translated and edited by CAFA ART INFO, for further information please visit www.xianartmuseum.org.
Related posts: