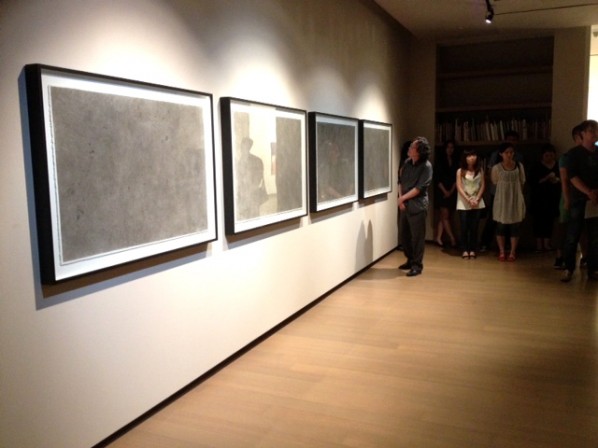 Returning to work in CAFA, a discussion on the artistic creation in my graduate students and doctoral students is one of my works that is closely related to art. The nature of the artistic creative process is actually that an artist has a contest with his/ her own character and mind through the use of art; while the existing artistic techniques and styles are "so powerful", we are told that outstanding artworks are collected in the textbooks. A deeper part, that belongs to the individual surges at the same time, and says, I am who I am, here is very typically me. Although master's "grammar" is good, what it says is not what I want to express, while sometimes they are almost the same, sometimes they are extremely different. Searching, matching, and mixing the past artistic experiences, exhibitions, catalogs, websites, and classmates, trying to find somebody that is similar to me; it's like choosing a pair of shoes in the supermarket, while none fit my feet. Perhaps, it's necessary to search again starting from the origin of shoes in human history – sandals era; but it fails, because it's a logical development, which is clearly interlocked, without any loopholes. It seems that the only chance is located in the barefoot era. Indeed, Buddha appeared under the premise of the absence of the concept of "shoe", which is diverted from a sentence of Zen talk…
When I talk about art with students, it's actually a subject of exchange.
For my experience to work in the international contemporary art system, I know about it. In addition, I basically understand the domestic art education as used in the past. As I have seen a variety of things, the "ideas" which are painstakingly thought out can be easily denied; giving them some ideas when their creations are in confusion, anytime and anywhere. This allows their thinking to become more flexible than before, and offers more approaches to solve problems in future. But when giving them ideas, I also ask myself if it is good for them to have a "flexible mind"? After all, this is not a core part of the art. When students have always had a prompt to solve problems, their creativity might shrink. My first graduate student once said: Your mind is too strong so I have no space to think. But when he left me for a while, he came up with interesting things.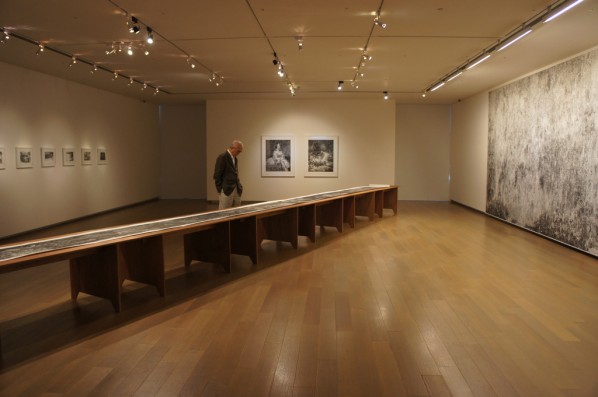 It's really interesting, the exchanges between thought and spirit, and it sometimes needs to be stimulated, sometimes to look one way and row another, sometimes to be pushed into a dead angle, sometimes to be protected as it is gentle as the tentacles of a snail, never hurt it which perhaps draws back for ever, sometimes by use of the means of 'Book from Heaven', to communicate through a refusal to communicate.
Although I am a teacher and they are students, I clearly understand that they are essentially better than me, because they are younger. They certainly have a better sensitivity to new things, acceptance of future trends, as well as a different physiological adaptation from me. They represent the future. This is the biological level, and the evolutionary instinct. It is really enviable.
Therefore, when "teaching" them, I must initially enter into their world; each of them is different and unique, like a treasure; it's necessary to enter into their world to find out how to develop them, where are the barriers? Sometimes, it needs to completely disrupt the already formed patterns, intermediate regions or broken places, rebuilding them, in order to reactivate them. I'm gratified to see the process and result of the entanglements between their personalities and art. It can also help me correct my understanding on many issues. Three of the students in this exhibition successfully defended their dissertations a few weeks ago. During their studying, some of their works have become part of the collections of important international art museums. But when confronted with the professors of the supervisors' team, they were as nervous as children. The deeper characters revealed through subtle tricks, while they pretended to be calm and mature, reflecting that they were serious about things as well as awe at the scholarship; they appeared exceptionally cute. At that moment, when I was sitting in the middle of professors, and I felt seized with anxiety for them, reminding me of a memory from a few years ago, when I was going to Columbia University to give a lecture, my old mother in her nineties advised me to "take it easy", which seemed like a scenario from a final examination of primary school for a pupil.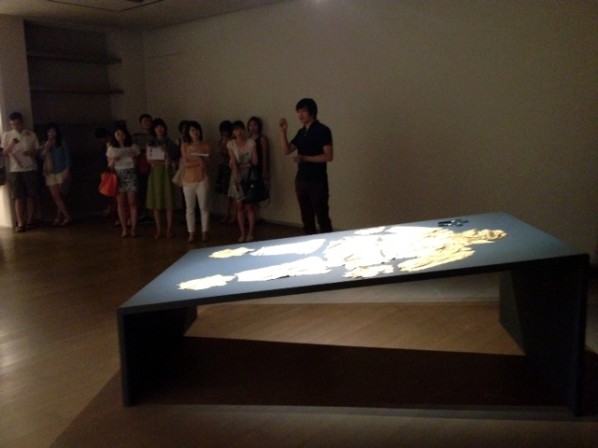 In daily life and work, these subtle experiences are valuable; art is the carrier and result of the "publicity" of experiences. Perhaps this is what one of my teachers always told us: "Art is a manifestation of excellent human charm." Promotion of the human quality should be the thing left for the students by art education. I have said: "In the teaching and learning process, through the subtle experiences of a work, through the exchange of subtle things experienced, a rough man transforms into a fine, well-trained man, who knows the methods of work, wisely understanding the relationships between the whole and the detail. Allowing the students to have the necessary quality to engage in any field; a capability to penetrate, accommodate and digest various cultural phenomena, as well as the capability of implementation – finally solving the problem of the level as a person." So I hope for them: Whatever they work on art or not in the future, they will excel in any field, with creative power.
Thanks go to Eslite Gallery for they would like to provide an opportunity for these young artists; bringing them into the practice fields of society, art and market, which I experienced, so will they sooner or later, I hope that their future will be a satisfactory process.
These students are looking forward to communicating with Taiwanese art students. There is an overlapping part of common interest and resonance in the relationships of society and a cultural context between the cross straits.
Xu Bing
May 30, 2013
Related posts: