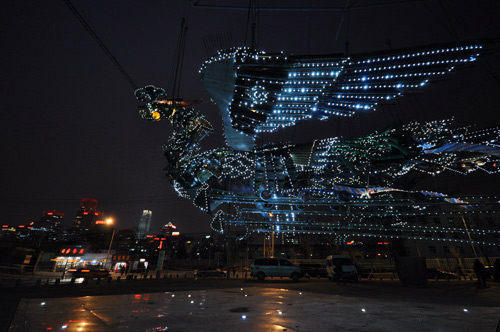 Drawing inspiration from the contemporary realities of his fast-changing country, Chinese artist Xu Bing spent two years creating his newest work, Phoenix. The installation features two monumental birds fabricated entirely from materials harvested from construction sites in urban China, including demolition debris, steel beams, tools, and remnants of the daily lives of migrant laborers. At once fierce and strangely beautiful, the mythic Phoenixes bear witness to the complex interconnection between labor, history, commercial development, and the rapid accumulation of wealth in today's China.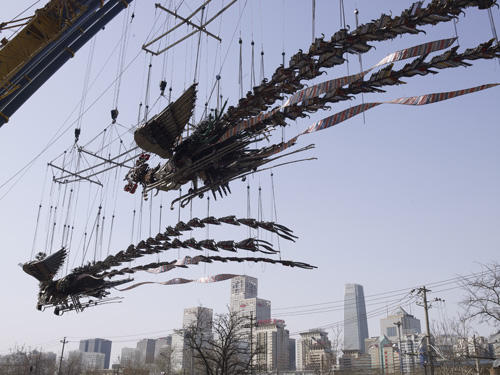 This is the premier appearance of the sculpture outside China (the works were exhibited briefly outdoors at the Today Art Museum in Beijing, and then at Expo10 in Shanghai). At MASS MoCA, the internally illuminated 12-ton birds are suspended mid-air inside the museum's football field-sized Building 5; dwarfing visitors, the male Phoenix Feng measures 90 feet long, while the female Huang reaches 100 feet in length, beak to (steel) tail feathers.
Phoenix is the centerpiece of an exhibition of related art by Xu Bing, widely considered to be among the most important Chinese artists working today. An opening reception will take place on April 26, in conjunction with the installation of a "second chapter" of the exhibition.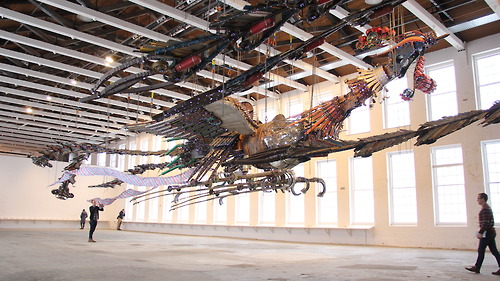 Phoenix Project was commissioned by Ravenel Art Group and is on loan courtesy of the collection of Mr. Barry Lam. MASS MoCA is grateful for exhibition support provided by the artist's studio; Sheffield Plastics; Eslite Gallery; Beautiful Asset (Beijing) Industry Co., Ltd.; E. Rhodes and Leona B. Carpenter Foundation; Horace W. Goldsmith Foundation; Massachusetts Cultural Council; Robert Lehman Foundation; Helen & Will Little; Rene Balcer & Carolyn Hsu-Balcer; Hugh Freund; Cynthia Hazen Polsky & Leon Polsky; Alex G. Cao & Tina Wong; Jim Schwarz; and an anonymous donor. Additional funding for the exhibition catalogue is provided by the W.L.S. Spencer Foundation.
ARTIST TALK: XU BING
Friday, April 26, 2013, 5pm Club B-10
Free to Williams Students, Faculty and Staff and MASS MoCA Members$8 general admission to lecture and reception
Member tickets are not available via the internet.
In conjunction with his new exhibition at MASS MoCA Xu Bing: Phoenix, the artist will discuss his work of the past twenty years, and in particular will address the events surrounding the making of his controversial Phoenix Project. Drawing inspiration from the contemporary realities of his fast-changing country, Chinese artist Xu Bing spent two years creating his Phoenix. The installation at MASS MoCA features two monumental birds fabricated entirely from materials harvested from construction sites in urban China, including demolition debris, steel beams, tools, and remnants of the daily lives of migrant laborers. On April 26th, the museum will open an additional gallery devoted to Xu Bing's work, including calligraphic works from his Square Word series, Book from the Ground, a research-based project based on internationally-recognizable symbols, computer icons and other elements of graphic-based language, and a new video animation in which Xu Bing comments on the Chinese character through a seventeen minute hand-animated video, to be projected onto a screen over 25' wide.
Xu Bing will lecture in Mandarin, with English translation. There will be a short question and answer session following his illustrated talk in the B-10 Theatre, and reception in the gallery.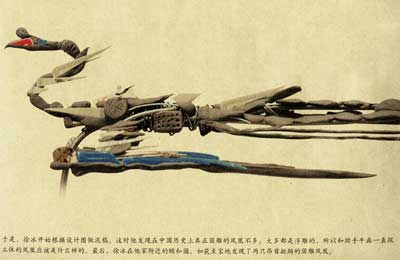 Besides, Xu Bing will return to the Smithsonian's Arthur M. Sackler Gallery with a special exhibition that looks deeper into his most recent monumental project. "Nine Deaths, Two Births: Xu Bing's Phoenix Project," on view April 27–Sept. 1, traces the difficult—but ultimately successful—evolution of his largest public artwork to date. Due to their technical complexity and challenging subject matter, "Phoenixes" took over two years to create, during which time Xu paid multiple visits to a construction site in Beijing's Central Business District and spent time with the workers, while conducting research on representations of the mythical phoenix in Chinese art. In the resulting sculptures, steel girders, beams, hard hats and other construction materials are recycled to transform a familiar image into a commentary on the dense urban and social contexts prevalent in contemporary China. The Sackler exhibition, "Nine Deaths, Two Births," documents the project's development through preparatory drawings, technical diagrams, scale models and a new film made especially for this presentation. An accompanying selection of masterpieces from the Freer and Sackler collections further illuminates Xu's approach to reinterpreting a traditional Chinese artistic form.
"Through these rough materials, we gain a sense of Xu's process and the unpredictability inherent in a project of this scale," said Carol Huh, assistant curator of contemporary Asian art. "Also as the seminal Word Play exhibition did in 2001, his work offers a unique opportunity to draw on the Galleries' historical collections to enhance our understanding of the work of a major contemporary artist."
"Nine Deaths, Two Births" takes its title from Xu's description of the project: "nine deaths" refers to the many setbacks he faced during the lengthy creation process, while "two births" celebrate both the "Phoenixes" themselves and the two children born to his studio staff during the same period.
The exhibition will be accompanied by a full range of public programs later in the summer.
About the Artist
Xu's history with the Sackler is long and prolific; the gallery organized the first major solo exhibition in the U.S. featuring a Chinese contemporary artist, "Word Play: Contemporary Art by Xu Bing" (2001–02), and the resulting commission, "Monkeys Grasping the Moon," was the Freer and Sackler's first commissioned contemporary art installation. Unveiled in 2004, this unique work is permanently on view, dropping nearly 86 feet through the Sackler's central atrium. Most recently, Xu was a part of the Sackler's 25th anniversary celebration in November, giving a lecture on his work.
Xu was born in Chongqing, China, in 1955. In 1990, he moved to the U.S. on the invitation of the University of Wisconsin-Madison. He returned to China in 2007 and is currently the vice president of the Central Academy of Fine Arts in Beijing, where he received his bachelor's degree and master's degree in fine arts and later taught. Besides the Sackler, solo exhibitions of his work have been held at the New Museum of Contemporary Art in New York, the Joan Miro Foundation in Spain, the National Gallery of Prague and the Spencer Museum of Art in Kansas. Xu has also shown at the 45th and 51st Venice Biennales, the Biennale of Sydney and the Johannesburg Biennale.
The Arthur M. Sackler Gallery, located at 1050 Independence Avenue S.W., and the adjacent Freer Gallery of Art, located at 12th Street and Independence Avenue S.W., the Smithsonian's museums of Asian art, are on the National Mall in Washington, D.C. Hours are 10 a.m. to 5:30 p.m. every day (closed Dec. 25), and admission is free. The galleries are located near the Smithsonian Metrorail station on the Blue and Orange lines. For more information, visit www.asia.si.edu. For general Smithsonian information, call (202) 633-1000.
Courtesy of Xu Bing Studio, for further information please visit www.xubing.com.
Address: 540 Metropolitan Avenue, Brooklyn, NY 11211
Tel/Fax: 718-388-4228 Cell: 917-415-1020
Related posts: