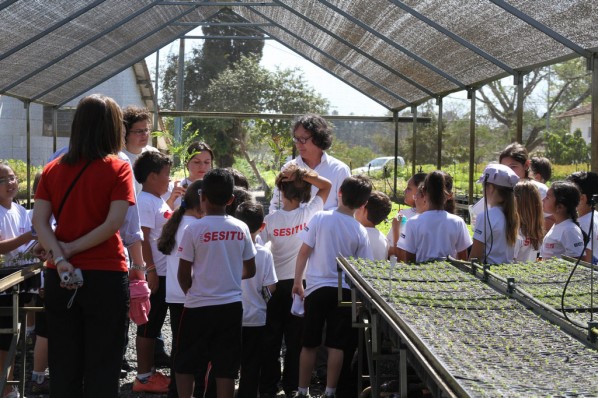 On a recent Wednesday afternoon, under a bright Brazilian sun, renowned Chinese artist Xu Bing taught local children in the small city of Itu how to draw trees, connect with the unique history of human language and become helpers of the threatened Atlantic Forest. Organized by The 30th São Paulo Biennial and Fundação Armando Alvares Penteado-Museu de Arte Brasileira (FAAP-MAB), Xu Bing traveled to the Experimental Forestation Center run by SOS Mata Atlântica where he worked with nearly 100 children between the ages of 8 and 13 over two full days. Part of Xu Bing's "Forest Project," together with the student artworks will be included in this year's Biennial and will be sold on-site during the course of the Biennial to fund restoration of the Atlantic Forest. The works can also be viewed at www.forestproject.net.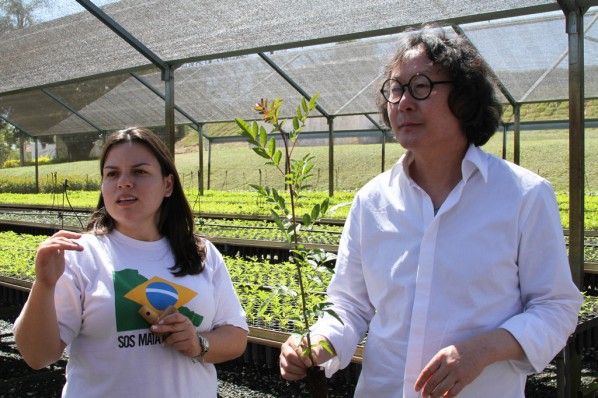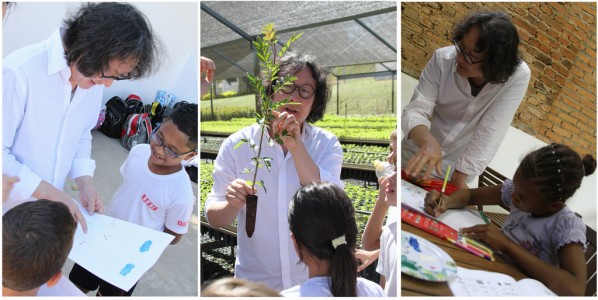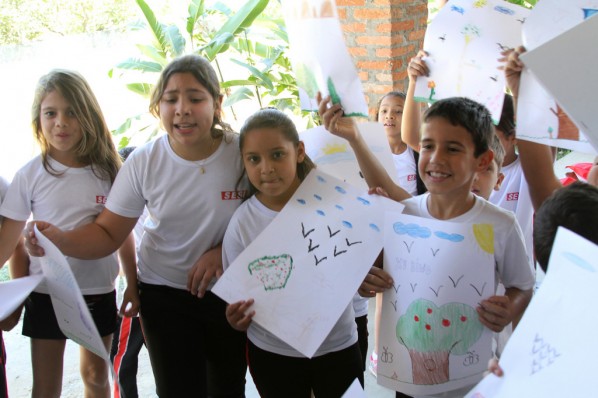 This was the fourth such trip made by Xu Bing, who first conceived "Forest Project" in 2006 at Mt. Kenya, as part of "Human/Nature: Artists Respond to a Changing Planet" organized by the Museum of Contemporary Art San Diego (MCASD) and the University of California, Berkeley Art Museum and Pacific Film Archive (BAM/PFA), in partnership with the international conservation organization Rare. Xu Bing later continued the project in Hong Kong and Shenzhen, China. To date, over 500 children have participated (PLEASE CONFIRM) and XXX dollars (PLEASE CONFIRM) have been raised to replant forest greenbelts in Kenya and China. Proceeds from "Forest Project: Brazil" will be donated to SOS Mata Atlântica, a non-profit founded in 1986 in Brazil. Since 2000, SOS Mata Atlântica has planted more than 22 million trees in the Atlantic Forest, which stretches across Brazil's Atlantic coast. 500 years ago the Atlantic Forest covered nearly 1,500,000 square kilometers today that figure is closer to 4,000 square kilometers.
In addition to "Forest Project," Xu Bing's large-scale "Book from the Ground" project will also be included in the 30th Biennial. "Book from the Ground" is a wide-ranging project that includes a novel written entirely in found icons, legible without translation to the people of the world and a computer-chat program that allows for pictographic communication across languages and cultures. Xu Bing's Brooklyn studio, the site of much of his early research and experimentation with "Book from the Ground" is also reproduced in its entirety within the exhibition space.
Biennial Chief Curator Luis Pérez-Oramas (The Estrellita Brodsky Curator of Latin American Art at the Museum of Modern Art, NY) has invited over 100 artists to participate into this year's biennale however Xu Bing is the only Mainland Chinese artist got invited. Founded in 1951 by Italian industrialist Ciccillo Matarazzo, The São Paulo Biennial is the second oldest bi-annual art exhibition in the world and expects to attract more than 750,000 visitors this year.
Details: The 30th São Paulo Bienal – The Imminence of Poetics
Dates: September 7 to December 9, 2012
Location: Ciccillo Matarazzo Pavilion, Parque Ibirapuera, São Paulo, Brazil
Chief Curator: Luis Pérez—Oramas
Associate Curators: André Severo and Tobi Maier
Assistant Curator: Isabela Villanueva
This report is provided by Gao Jie and courtesy Xu Bing Studio, New York.
For further information please visit www.bienal.org or contact www.xubing.com.
Related posts: