Xu Bing: Tobacco Project explores the production and culture of tobacco as seen through the eyes of one of China's most groundbreaking contemporary artists. Organized by the Virginia Museum of Fine Arts and curated by John B. Ravenal, Sydney and Frances Lewis Family Curator of Modern and Contemporary Art, the exhibition travels to the Aldrich Contemporary Art Museum, Ridgefield, Connecticut, opening on January 29, 2012. It combines important pieces from the artist's earlier projects at Duke University in North Carolina and the Shanghai Gallery of Art in China with new work inspired by visits to tobacco farms, warehouses, and cigarette factories in Virginia. Altogether, the exhibition spans a dozen years of Xu Bing's work and surveys one of his most ambitious undertakings.
Xu Bing, one of China's most acclaimed contemporary artists, is known especially for his exploration of language. In Tobacco Project he furthers that interest, presenting the culture of tobacco as a far-reaching system of signs and symbols. Using tobacco as both subject and object, the exhibition includes Xu Bing's adaptations of historical texts and graphics: a book made of whole tobacco leaves and printed with an early-seventeenth-century account of Jamestown, Virginia; a poem composed from historical tobacco brand names and printed on cigarette paper; and Chinese cigarettes printed with selections from Quotations from Chairman Mao Tse-Tung (the "Little Red Book").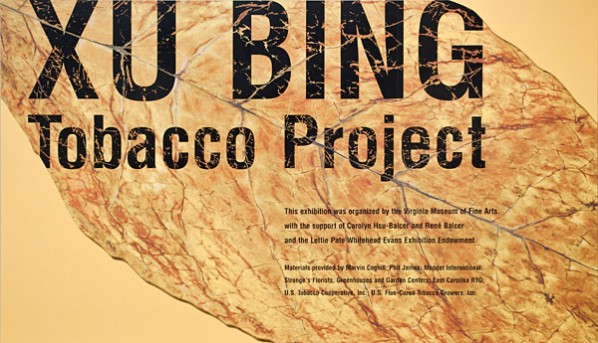 Tobacco Project employs tobacco as both a material and a subject with which to explore a wide range of issues, from global trade to the complex sociology of tobacco use. Xu Bing has written, "Everyone knows that tobacco is harmful, but we are inseparable, caught in an entanglement that resembles the relationship between lovers: getting too close is no good, but neither is being too distant…." Tobacco engages Xu Bing on many levels simultaneously, allowing him to raise questions, make new discoveries, and expand the viewers' awareness. Above all, he sees it as a medium of cross-cultural exchange—one that first linked Virginia and the American colonies to Europe and other parts of the world in the age of discovery and which continues to provide a connective thread in the age of globalism. In addition, he appreciates tobacco's unique formal properties. Tobacco Project appeals to the sense of smell as well as sight, and Xu Bing is conscious of permeating the gallery with the rich, sweet odor of tobacco. He also makes pieces that embody tobacco's life cycle, from leafy and green to brittle and brown to smoke and ash. Other works feature the materials and paraphernalia associated with tobacco consumption, including pipes, papers, matches, and ashtrays. Tobacco Project contains elements of sociology, history, politics, and personal narrative, but ultimately it is an artist's take on tobacco—a subject that fascinates Xu Bing for its history of innovation as much as for its exploitation and self-contradiction.
The dramatic centerpiece of the project is the work 1st Class, a carpet-like sculpture resembling a tigerskin rug that has been made from nearly half a million cigarettes. His new works include Traveling Down the River, a sculpture which includes a thirty-four-foot-long cigarette which is ignited on a reproduction of a famous Chinese scroll painting by Xhang Zeduan, commenting on the way tobacco culture spread into China. John B. Ravenal, Sydney and Frances Lewis Family Curator of Modern and Contemporary Art at the Virginia Museum of Fine Arts, said, "Xu Bing brings his usual wit and insight to his work with tobacco, as well as his sense of craft and showmanship. The exhibition is a stunning and thought-provoking display of Xu Bing's innovative art." Richard Klein, exhibitions director at The Aldrich Contemporary Art Museum, adds, "We are very pleased to bring this important exhibition—one of Xu Bing's most ambitious undertakings—to Ridgefield, especially as Connecticut shares Virginia's history of tobacco production, with the Connecticut River valley being the only region in the United States that produces premium cigar wrapper tobacco."
Visit aldrichart.org for more details.
Reports related to this:
1. Xu Bing: Tobacco by John Ravenal
2. Exhibition on the production and culture of tobacco as seen through the eyes of Xu Bing by artdaily.com
3. Xu Bing: Tobacco Project by The Aldrich Contemporary Art Museum
Related posts: