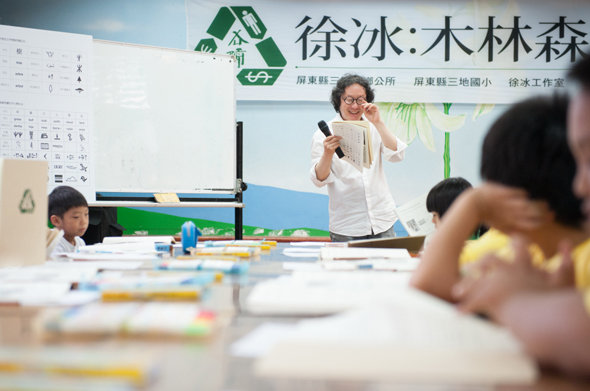 On July 8 and 9, 2013, Xu Bing, an international contemporary artist and Vice President of the Central Academy of Fine Art, joined hands with the Discovery Channel to official launch the public project "Forest Project: Taiwan" at Sandimen, Pingdong County in Taiwan.
The core of "Forest Project" is a self-sustained system of "human, fund and forest" Xu Bing that has been developing in Kenya since 2008. This system can change the trees as children paint on paper then real trees are planted in the places where the Earth truly needs them while transferring money from wealthy places to where they need trees. It combines fine arts, education, environmental awareness, experiences of coexistence with Nature, etc., which has been conducted in Hong Kong, Brazil and other places. "Forest Project: Taiwan" for 2013 has been chosen to take place at Sandimen County, the disaster region which was attacked by Typhoon Morakot. There is a deep and rich traditional culture of the Paiwan Tribe in Sandimen county, with a continuation of the triune concept of combining art, education and environmental protection education.
Xu Bing went personally to the San Di Elementary School, eight hours' drive from Taipai. He conducted two on-site teaching lessons there to offer guidance to sixty children between 6 to 12 to convey their natural instincts that human beings coexist with the land and the earth. After the lectures, Xu Bing integrates the history and culture features of Sandimen County into his Forest Project Textbook and will provide teaching materials for painting for the public to download in the form of Open Data on forestproject.net, which encourages those who were not present to share Xu Bing's ideas.
Subsequently, Xu Bing will select some paintings by the participants to conduct an on-line auction and the funds he collects will be used to buy seedlings to be planted in the disaster areas of Sandimen County that lost vegetation because of typhoon.
Xu Bing said that the Forest Project is a special and effective way to help children to achieve their ideals, that means, letting children do it by themselves and apply the running mode of today's world economy, to change the trees on paper into real trees growing on the earth. Through Forest Project, children learned that the realization of ideals is not empty but can be achieved after an association with reality. Every place "Forest Project" reaches, it will complement the region's valuable attitude towards nature as well as its very rich and unique local culture. This time, "Forest Project" came to visit Sandimen County where Chinese Taiwan aboriginals live and abide by the philosophy of life coexisting with Nature for generations, which highly accords with the idea of "Forest Project". This view of nature, together with the culture and arts of the Paiwan Tribe, are both reflected in children's pantings.
Yan Xinyi, the general planner of this project thought that, this program provided multiple spaces for dialogue: destruction of natural disasters and rebirth, affects that education exerts on cultural communication and transition, more possibilities for art forms and practices. Meanwhile, "Forest Project: Taiwan" develops a kind of practical way in accord with the local situation. The outcome of the project in its first year will be showcased at the art museum of Taiwan in the forms of work on paper and installation in 2014.
The participating partner of this project Hong Yunqi, who serves as Vice President of Channel Brand, North Asia for the Discovery Channel Asia, indicated that, "Discovery Channel is committed to providing the world with issues-oriented programs for different audiences, such as producing "Guardian of Nature" analyzing the problems of natural protection education as faced by various countries and so on. It's a great honor to participate in the Forest Project in Taiwan, to make the trees on paper into real forests, to jointly practice the ideas of protecting about the earth from a minor position.
For this "Forest Project: Taiwan", Xu Bing took five postgraduates and one doctoral student with him to Taiwan, and they directly took part in the teaching and painting of "Forest Project", these young artists from the Central Academy of Fine Arts, together with the local aboriginal kids, as well as participants from the cities jointly created and had an immediate experience of how the domain outside the arts could inject new vitality into the art system.
Related posts: