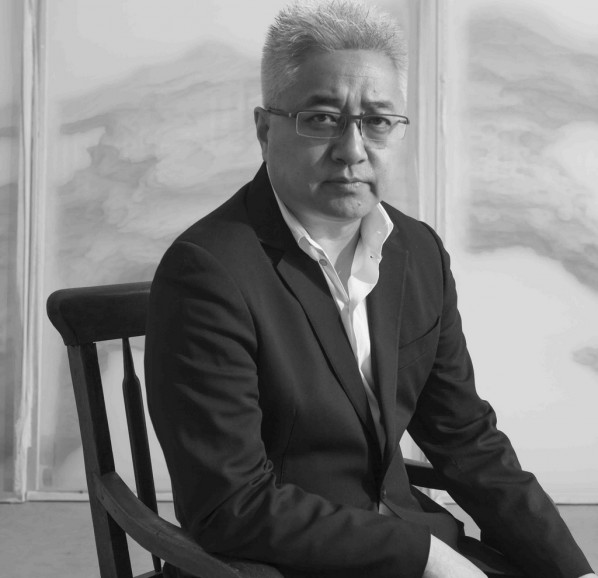 Over the past thirty years, experimental ink painting has gradually incorporated the twin agencies of materiality and the paint act, while new literati painting and urban ink painting seem to be seeking their breakthrough within the contemporary narrative. Compared to these practical and orthodox approaches, the gongbi brush technique that Xu Lei has frequently employed since the 1990's is an area of Chinese painting that has been concealed during the reforms of the 20th century. In today's art world, Xu represents a new and noticeable trend of using gongbitechnique as a source of artistic vocabulary. Such experimentation is an attempt to leave behind questions of ink and brushwork, to reintegrate elements dethroned by past experimental ink painting practices (e.g., color, space, and narrative) into contemporary expression, thereby opening a new thread of practice different from abstract experimental ink.
Though Xu Lei does possess classical training in Chinese painting, it was not his avenue for entry into contemporary art. His younger years filled with revolutionary fervor, Xu Lei was once an organizer and participant in the Jiangsu Youth Art Week and Red Travels events. The art scene in those years was essentially an adolescence of the collective unconscious, full of passion but lacking any systemic organization of knowledge. Literariness and its close relatives, surrealism and existentialism, most appealed to many young New Wave artists.
Xu Lei was no exception. His works "Transgressor," featured in the 1989 China / Avant-Garde Exhibition, and "Heart and Lungs Normal" are prime examples of these trends. But unlike many other artists who distanced themselves from surrealist or existentialist narrative styles in the 1990's, Xu Lei appears to have followed the path of literariness. For him, literariness is not so much a phase of his life as it is a part of his spiritual character. Although he did decide to distance himself from avant-garde art and its various dissatisfactions in the 1990's, these facets of his character remained, sublimated into a bizarre panoply of imagery that would later become genetic material for his painting.
Xu Lei's identity as a participant in the 1985 New Wave movement has nearly been forgotten, but that participation does not inevitably invest his formally traditional art from that period with any special significance. It does, however, show that his choice to use Chinese ink brushes and traditional Xuanzhi scroll paper was a conscious decision based on the process of departure. Today, examining the artist in the context of ink painting, that conscious choice is rich with implication. This was particularly the case in the 1990's, when artistic culture was obsessed with the avant-garde and intervention into reality. In light of Xu Lei's revolutionary fervor in his youth, his choice to return to traditional media raised quite a few eyebrows among his former "comrades."
Xu Lei offers this explanation. "Change can move forwards or backwards. Moving backwards is not conservatism or a retreat, but a retracing and reviving of valuable points of departure in history. You could compare it to the rearview mirror on a forward-moving car; it is an orientation towards the future." And his approach is simple and direct: "I paint using that most traditional medium, Chinese 'cooked' scroll paper, but I do not draw upon the familiar forms and vocabulary of traditional Chinese painting." Technically, he mainly employs gongbi painting techniques of outlines, color application and ink wash. Compared to the haphazard, untrammelled furor of ink spreading across scroll paper so loved by experimentalists, the new literati school, and urban ink painters, "cooked" scroll paper is characterized by an unhurried reserve. It provides the artist the possibility of rational depiction, while also radiating cultural awareness.
Actually, Xu Lei was not the only one to depart from the avant-garde. Li Xianting's criticism of the 1989 China / Avant-Garde Exhibition as the "curtain call for New Wave Art" foreshadowed the reexamination of modernism and the avant-garde soon to come in the 1990's. Every artist used her own conception of the avant-garde and the New Wave Movement to arrive at a different reassessment. This reflection on the 1980's engendered a sense of meaninglessness among the cynical realists and the new literati school, and induced the anti-metaphysical character of the New Generation. Xu Lei did turn his back on the extremism, collectivism and essentialism of the avant-garde movement, but as a former participant in the New Wave, he also instinctively rejected the new literati senselessness that he saw as merely a self-defeating distraction from failed revolutionary aspirations. When the new literati painting emerged in the early 1990's, Xu began to use his own methods to reflect upon decadence and nihilism. If we consider new literati painting as relying on the carnal experience of the physical body as its main method of investigation, Xu instead hoped to scrutinize this decadence and nihilism from the perspective of the spirit. And so it was quite natural that his work would continue to echo the unique concerns of the angry youth of the 1980's, focusing on memory, history, spirituality, and related conceptual imagery.
Quoted from "Departure and Distancing: Avant-Garde Reflection in Xu Lei's Painting" by Pi Li.
Biography of Xu Lei
1963 Born in Nantong, Jiangsu Province
1984 Graduated from the Fine Arts Department of Nanjing University of the Arts
Currently at the China Academy of Arts, Editor-in-chief of "Classics"
Exhibitions
2013
Veneer of the World – Xu Lei, Today Art Museum, Beijing
Lightness – One Clue and Six Faces, Hive Center for Contemporary Art, Beijing
Image/Illusion – Contemporary Chinese Art Series I, Hive Center for Contemporary Art, Beijing
Ink, Sotheby's, New York
Logic of Ink Painting, XianShi Space, Beijing
He Huan Wei Zhen: The Fable of Image – Chinese Contemporary Gongbi Invitational Exhibition, InkJ gallery, Nanjing
2012​
Sanfanjiuran – New Gongbi Painting Invitational Exhibition, Shanghai Museum, Shanghai
Chinese Literati Art Exhibition, ACAW, Fuller Center, New York
The Revive of Tradition – Contemporary Art Exhibition, London International Book Fair, London
The Original Form of Ink, Sanchuan Modern Art Museum, Nanjing
Chinese Shangshi Ink Painting Exhibition, Asian Art Week in London, MD FLACKS Gallery
Through All Ages – Long Museum Opening Series Exhibition, Long Museum, Shanghai
Weary and Extend – Start From Nanjing, Sanchuan Modern Art Museum, Nanjing
2011
Future Pass – From Asia to the World Touring Exhibition, Venice, Italy
2011 Chengdu Biennale, Chengdu, China
Luna en el espejo – Xu Lei's Solo Exhibition, Kwai Fung Hin Art Gallery, Hong Kong
Solo Exhibition of Xu Lei, Asia House & Goedhuis Gallery, London, UK
2010
Silent Voices: Ink Paintings by Xu Lei, Mee-seen Loong Fine Art LLC; Joan B Mirviss LTD, New York
Reshaping History China Art from 2000 to 2010, Beijing National Convention Center, Beijing
Pavition of China at The 12th International Architecture Exhibition, La Biennale di Venezia
2009
The Living Chinese Garden, The Old State House of Brussels, Brussels
2008
Xu Lei: Revivification of the Tradition, Asian Division of the Library of Congress, Washington
Illution/ Nature – The New Direction of Chinese Gongbi, Beijing Art Academies Gallery, Beijing
Case Studies of Artists in Art History and Art Criticism, SZ Art Center, Beijing
Zeichen im Wandel der Zeit: Chinesische Tuschemalerei der Gegenwart, Staatlichen Museen zu Berlin; Staatlichen Kunstsammlungen Dresden
New Age – The Road of Chinese Painting, National Art Museum of China, Beijing
Zhifu: The Extention of Medium, Tang Contemporary Art, Hongkong
2007
What's Next – Chinese Contemporary Art Exhibition, Hong Kong City Hall, Hongkong
Sensitivity – Memory form: Twelve Artists' Works, Dimensions Art Center, Beijing
Rotation, Nanjing Qinghe Contemporary Art Center, Nanjing
2006
South-east China, Group Exhibition of Hong Lei, Tang Guo and Xu Lei, Beijing TS1 Contemporary Art Center, Beijing
Poetic Reality: A Reinterpretation of Jiangnan, RCM Gallery, Nanjing
The New Classic Five People Exhibition, Sun Yat Sen Memorial House, Taipei
Group Exhibition of Zhu Wei, Xu Lei and Peng Wei, Season Gallery, Beijing
Qi Cheng Zhuan He, Jiangsu Province Art Museum, Jiangsu
Make Up – Chinese Opera Art Exhibition, Today Art Museum / Zhuqizhan Art Museum, Beijing / Shanghai
Beyond Temporality: Presentation of Photography According to Contemporary Art Approach, Ping Yao Conspire, Beijing TS1 Contemporary Art Center, Beijing
Pele da cidade: Imagens of Metropole Contemporanea, Galeria Tap Seac of Macau / Shenzhen Museum of Art, Shenzhen / MaCAU
Art Nova of Gongbi Group Exhibition, Nanjing Dajia Gallery, Nanjing
2004
One to One: Photographs from China, Chambers Fine Art, New York
Photographs from Nanjing, Nanjing Art Museum, Nanjing
Dragon's Nation: Contemporary Art of China, Irish Museum of Modern Art, Irish
The First Nominative Exhibition of Fine Arts Literature, Wuhan
2003
The Different Same: Contemporary Art Exchange Exhibition, Shanghai Duolun Museum of Modern Art, Shanghai
2002
Behind the Reality Other Modernity, Dimensions Art Center, Taipei
Paper / Colour, TaiKang Art Museum, Shanghai
Beauty through Silk Screen: Original Contemporary Engraving Printing Exhibition, Today Gallery, Beijing
2001
The Conversation With Chagall: Dimen Thematic Art Exhibition, Art ShangHai, ShangHai
Exhibition of Chinese Ink & Wash Paintings, Edinburgh
Contemporary Silk-screen by Chinese Artists, Dynasty Art Group, Taipei
2000
Exhibition of 5000 Years of Chinese Art and Civilization, Guggenheim Museum, Bilbao
Exhibition of Shanghai Art Museum's Collection, Shanghai Art Museum, Shanghai
Neo-Ink Paintings, Liuhaisu Art Museum / Jiangsu Province Art Museum, Shanghai / Jiangsu
New Frontier-New Vision, Haishangshan Art Center, Shanghai
Chinese Contemporary Ink paintings and Sculpture, Pierre Cardin Center,Paris
Illusions: Xu Lei's Art Exhibition, Keyi Gallery, Nanjing
1998
Exhibition of 5000 Years Of Chinese Art and Civilization, Guggenheim Museum, New York
New Voices: Contemporary Art Dialogue Among Taipei, Hong Kong Arts Centre / Dimensions Art Center, Hong kong / Taipei
5 Chinese Artists, Arte Nel Castello, Torino
1997
Xu Lei's New Work, Browse / Darby Gallery, London
1996
Chinese Contemporary Art, International Art Garden Museum, Beijing
The Art Show of Eight Artist From China, Browse & Darby Gallery, London
The International Asian Art Fair, New York
1995
The Mystery of Absence: Xu Lei's Art Exhibition, Alisan Fine Arts, Hong Kong
Walasse Ting & Xu Lei – The International Fine Art and Antiques for Asia, Singapore
Solo Exhibition of Xu Lei, Jiangsu Art Museum, Jiangsu
1991
Xu Lei 's Painting Exhibition, Cultural Office of the Italian Embassy, Beijing
The Practical Art of Paper, Shanghai Library, Shanghai
1989
China / Avant-Garde, National Art Museum of China, Beijing
1987
Journey of Life: Painting Exhibition Act Two, Nanjing Publication Building, Nanjing
1986
Journey of Life: Painting Exhibition Act One, Museum of Nanjing University of the Arts, Nanjing
1985
Jiangsu Art Week of Youth / Great Exhibition of Contemporary Art, Jiangsu Provincial Art Museum, Nanjing
1984
The sixth National Fine Arts Exhibition, National Art Museum of China, Beijing
Courtesy of Xu Lei.
Related posts: