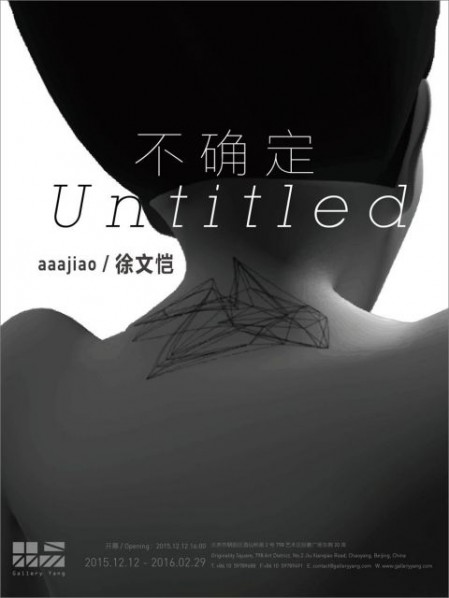 A new exhibition in Gallery Yang, "aaajiao – Untitled", is set to open on December 12th, 2015. It is the first solo exhibition of artist Xu Wenkai presented by Gallery Yang, and will last till February 29th, 2016.
In his works, Xu Wenkai tends to employ languages of multiple fields, such as architecture, electronic music, performance, product design, and medicine, to study data processing and we-media, focusing on the young generation who are consuming internet technology and living by social media. He calls them "the screen generation". In his view, screen has become another side of man, and vice versa. Not only is instrument an extension of man, it also has its own properties of growth, even its own will. In an era of high technology, this will, through effective dissemination and promotion is easier than ever to infiltrate into the systems of self-organization and self-management of man. It seems that the modern science, after shaking off the old religions, has created a new one. Only now we have no need for passionate will to sustain some metaphysical or transcendent world. Today, visual and aural machines are developing very fast, and we are increasingly outsourcing to the feelers of science the task of feeling the world. As a result, a life of continuous attracting and dumping, surprise and oblivion, wraps up like onion peel our human experiences, which, existing either in virtual or real world, are seamless in the eyes of the artist. In contrast to the rational spirit, today's experiences lie scattered and mixed on the playground of time like two defeated troops. And Xu Wenkai's works strive to face these disorderly experiences and present them to audience in a unique artistic code.
"aaajiao – Untitled" is an extension of his solo exhibition "Alias: aaajiao", which was displayed in Shanghai in January, 2015. There is also some difference between the two: the last one talks about how man is to be in a reality in which the real and the virtual are indistinguishable; while in this one, the artist tries to make some predictions about the uncertainty of identity for the individual and the crowd: could there be a new human colony, highly informationized, which, if not going to replace us, is more suitable than us for the future?
In our time, technology is widely equipped for intelligentization, informationization, automatization, and personification. And the artist has gone through a series of development: in the beginning of his career, he made emotional scans of virtual worlds and created by cross-fields methods derivatives for virtual worlds; then he sought for the ways of being of man; now he delivered a humanoid "aaajiao" in the real world. Could this substance, which is independent of our cognition and comes from our living experiences, bring about a new perspective for us to look upon the human nature? Let's wait and see.
About aaajiao Xu Wenkai
aaajiao, is the online handle of Xu Wenkai, a Shanghai-based new media artist, avid blogger and free thinker.
Born in 1984, aaajiao grew up in Xi'an, the ancient capital of Qin and Han Dynasty known for the Terracotta Army. The year of 1984, coinciding with George Orwell's dystopian masterpiece, seems to explain the perfect alignment between the vivid SciTech-driven imagination and the sometimes-poetic sophistication, frequently seen as the main theme of aaajiao's work. Many of aaajiao's works tap into the most current trends of thoughts around the Internet sphere, with a focus on the emerging controversies and phenomenon related to data processing, blogsphere/ wemedia and filtered information. In his most recent projects, the artist has adopted a more extended scope of practices, borrowing elements from architecture, electronic music, performance arts, product design, even medicine, to portray the young generation harnessing the power of cyber technology and the ever-present social media.
Being one of the most frequently exhibited Chinese new media artists, aaajiao has been featured in both international and domestic scenes. Highlights include: "Global Control And Censorship – ZKM | Zentrum für Kunst und Medien technologie Karlsruhe, Karlsruhe(2015)", The 2nd "CAFAM Future" Exhibition: Observer-Creator · The Reality Representation of Chinese Young Art Beijing, CAFA Art Museum (2015); Cosmos – Limited and Limitless, Existence and Co-existence Shanghai, 21st Century Minsheng Art Museum (2014), Thing world – International Triennial of New Media Art Beijing, The National Art Museum of China (2014),The West Bund Architecture and Contemporary Art Biennale, Shanghai (2013); "One World" Exposition – Chinese Art in the Age of the New Media, Videotage, TransLife: Media Art China 2011 – International Triennial of New Media Art Beijing, The National Art Museum of China (2011),Hong Kong (2011); Transmediale, Berlin (2010), etc. aaajiao is a winner of the Jury Prize from Art Sanya Awards 2014, a nominee of OCAT – Pierre Huber Art Prize, and most recently, a nominee of the "Young Artist of the Year" of 9th "Award of Art China".
About the exhibition
Date: 2015.12.12 Sat – 2016.02.29 Mon
Venue: Gallery Yang
Address: No.20, East of 798 Originality Square, B District in 798 Art Zone, No.2 Jiu Xianqiao Road, Chaoyang District, Beijing, China
Courtesy of the artist and Gallery Yang, for further information please visit www.galleryyang.com.
Related posts: