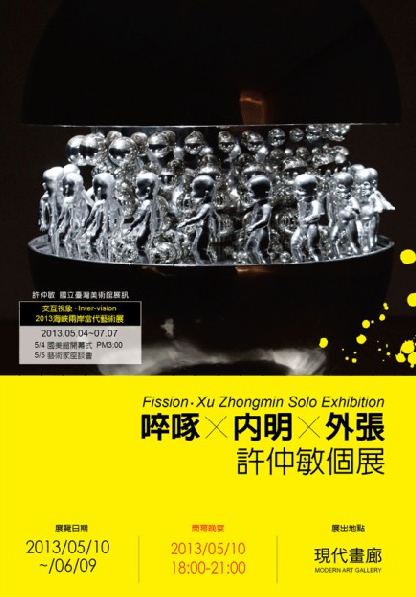 Modern Art Gallery presents " Fission" – the first solo exhibition of Xu Zhongmin from May 10 through June 9. As one of important artists of China contemporary art world, His art works are often challenging to categorize due to their interdisciplinary features. Not only has Xu effectively adopted aesthetics in design and its technical requirements, he has also infused social aesthetics and artistic meanings in his construction of a sort of visual surrealism. Modern Art Gallery is pleased to work with this amazing artist again, especially it's his first solo exhibition in Taiwan. The exhibition showcases 6 representative works at each period, it is a great time for the artist and Modern Art Gallery, for everyone who appreciate his works.
Xu Zhongmin was born in 1961 in Mianyang, Sichuan Province, China. With his education interrupted by the Cultural Revolution, he grew up working for a traditional Chinese theatre. From 1975 to 1981, he then learned acting and stage design with the Mianyang Sichuan Opera Troupe, before being accepted into the prestigious Sichuan Fine Arts Academy where he studied printmaking, painting and sculpture until 1987. Xu also spent some time in Beijing before moving to England to live and work in 1992. Xu Zhongmin works in woodcuts, video installations and performances. The modern city and its inhabitants, the chaos and the lull, identity and anonymity, lust and greed are rendered tangible in his body of works. His work has been widely exhibited in China, Japan, UK and France and many of his pieces are held in the collections of major museums and galleries, including the British Museum. Xu has also won many significant awards for his work.
About the exhibition
Duration: 2013-05-10 ~ 2013-06-09
Venue: Modern Art Gallery
Address: No.9, Ln. 155, Kung-Yi Rd. Taichung Taiwan
Courtesy of the artist and Modern Art Gallery, for further information please visit www.smagtw.com.
Related posts: