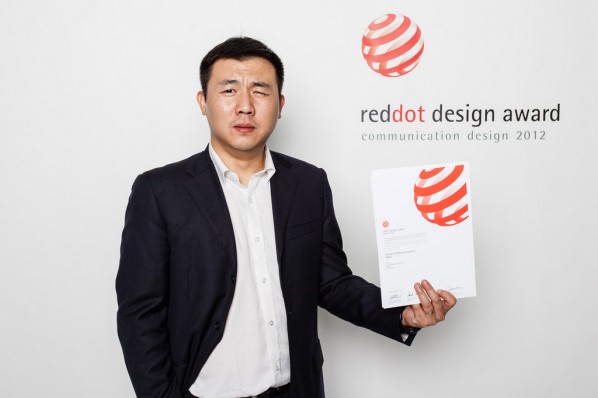 The "red dot award: communication design", one of the most renowned decorations in the field of communication design bestowed for the 20th time. This anniversary celebrated with a glamorous gala and a boisterous party in the creative metropolis of Berlin. In 2000, the "red dot award: communication design" replaced the well-known "Deutscher Preis für Kommunikationsdesign", which had been announced in 1993 for the first time. The competition documents the main trends in communication design for two decades now. Accordingly, representatives from the fields of design, politics, business and the media gathered in the Konzerthaus Berlin on 24 October, to honour the industry's most talented and creative minds for their achievements.
Young lecturer Yan Feng from the China Central Academy of Fine Arts won the award with his App design "Chinese Traditional Furniture". "Chinese Traditional Furniture" offers exciting insight into furniture from the Ming Dynasty period, filigree pieces of furniture that were designed without the use of nails. Thanks to a highly consistent digital media design, users are shown the diversity of traditional Chinese design patterns and forms of construction. They can learn about the steps involved in making these unique pieces of furniture, and will find answers to questions such as how Ming Dynasty artists drew and designed their furniture. Tapping on the image at the start page gives access to well-structured details on the piece's history, size and function, as well as the tools used. The four options in the navigation bar cover all relevant information for a better understanding of each piece of furniture. His winning works has been exhibited at "Design on stage – winners red dot award: communication design 2012" and be included in the yearbook 2012/2013.
About the artist
Yan Feng takes charge of the Tencent Interaction Design Laboratory which belongs to Digital Media Major of Design School, Central Academy of Fine Arts. Currently he is a Ph.D.student in Art and Design at the Central Academy of Fine Arts. He received his bachelor's degree of Painting from Tsinghua University in 2000. Then he respectively received his master's degrees of Painting and Digital Media from Birmingham City University (BIAD) and Academy of Art University AAU. He was responsible for Forbidden City Concert Hall, Beijing World Art Museum, San Art Space and Painting Project Planning for Today Art Museum. He commits himself to UI/UE interactive creative design, multimedia practices of art and design and so on. His representative works include: "New World 1.2", "Red Rain", "Summer", "In Memory of Hutong No.28", "Chinese Traditional Furniture" and other digital works which have won several international awards.
Image courtesy of reddot award, for further information please visit red-dot.de/cd/.
Related posts: