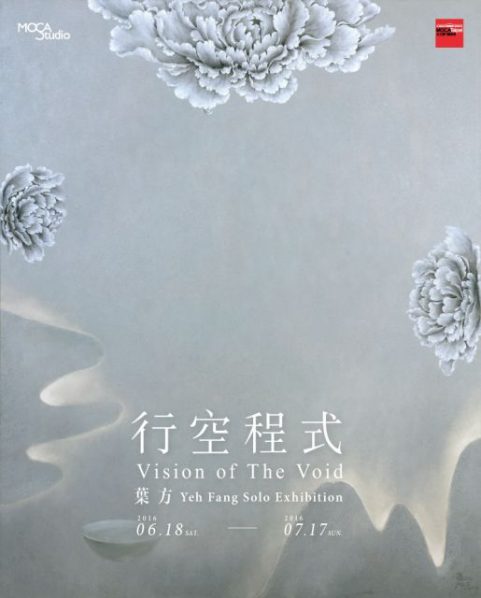 Vision of the Void is Yeh's first solo exhibition at the Museum of Contemporary Art (MOCA), Taipei, and it also displays her work after her solo exhibition at Today Art Museum in Beijing in 2013. The curatorial concept is inspired by the artist's constantly transforming and contemplative journey of life, in which she has learned to express her emotions and feelings through nature. The word, "void," beckons at a kind of meditative, freewheeling imagination. Living in this era of diversified arts, Yeh has fabricated a tapestry of mutually integrating and interweaving images with the changes and perceptions experienced and gained in life; and this is why the exhibition is named Vision of the Void.
To create a dialogue with the space of the MOCA Studio, Yeh has made several new attempts and employed different media in this exhibition, hoping to epitomize the cosmos in the representations of her inner world. In addition to oil paintings, the artworks on view also include video, image, and video – sound installation. Visitors will first see Hymn to the River in the gallery corridor. This tenmeter wide-screen video projection incorporates free-flowing calligraphy and surging waves, delineating the ebb and flow between heaven and earth and implying the vicissitudes of human existence. Arias in a Black Box in R102 is a series of eight small video and sound installations, which reveal various landscape from different times to their viewers through tiny viewing windows. Fugue and Code of Memory (Self-Portrait) represent the artist's examination of her life experiences as well as her comprehension of her life journey. R103 showcases a series of mixed media installations comprised of videos and oil paintings that depict peony, orchid, and bamboo. Yeh has specially combined these works with musical creations to enable multiple associations and dialogues of varying artistic languages, offering a visual-audio experience worth of repeated visits and contemplation.
Apart from painting, music is another outlet for Yeh to release her stress and to look within herself. Without any orthodox training, she is able to play instruments and sing freely. Not only the artworks in the exhibition are accompanied with her piano improvisations and vocal music, she has invited the curator, Mr. Hai-Ming Huang, to arrange her music, Through Thousands of Mountains My Small Boat Has Travelled. The video installation, The Visage of Life in the Course of Time, is also accompanied with Mr. Po-Yun Hsu's masterpiece, Tian Yuan. Such an employment of diverse artistic elements has embodied Yeh's idea of "experiencing the truth of eternal existence between all the changes and variations as well as returns and re-creations in this world."
About the exhibition
Curator: Liao Renyi
Date: June 18 – July 17, 2016
Opening: June 17, 2016, 14:00
Venue: Museum of Contemporary Art, Taipei
Courtesy of the artist and Museum of Contemporary Art, for further information please visit www.mocataipei.org.tw.
Related posts: