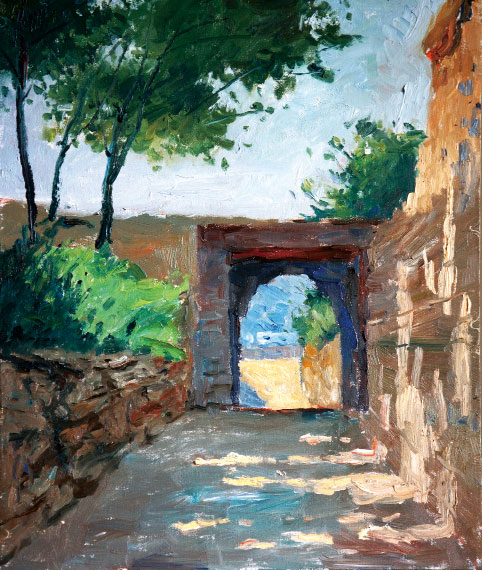 It is an undeniable fact that this type of landscape painting has found a survival way for itself in present society but it is far away from the main value of contemporary society. Contemporary society is an era where modernist and post-modernist overlap, the relationship between man and nature is undergoing profound changes, the art that profoundly reflects this change has a right to exist. In contemporary society, the relationship between man and nature is increasingly close while it also becomes more and more alienated.
Modern means of communication such as TV, photography and publication, etc. show the natural beauties of the world to the inspectors through various channels, due to economic development and convenient transportation, people are able to travel the world, so the spectacular, wild, mysterious and quiet natural landscapes are familiar to us, modern people no longer have to use the natural copy (landscape painting) to express the natural concept and enjoy the natural beauty, instead, to dialogue with nature by a direct or indirect experience ( TV, photography). On the other hand, while human beings are in blind pursuit of modern industrial civilization, they madly destruct nature, which makes people increasingly alienate nature both in the living environment and the natural essence, the relationship between man and nature has never been as terrible as today. It's theoretical that art has a duty to reflect the profound transformation of this relationship. However, the present status of landscape painting is that commercial interest without any thought plays the main role, because the art market doesn't require any thought, it just takes popular and prevalent taste as the object, even modern art style must be transformed into a style before it enters the art market. When the concept of landscape painting of people is still immersed in the aesthetic aspect of landscape, symbolising the home of people, nature is suffering the destruction by human beings, if one wants to truly reflect the relationship between man and nature like each landscape painting school through history, the subject of current landscape painting should be a salvation of nature, a ecological protection. It also produces an issue of "conceptual" landscape painting, which is the potential theme of landscape painting, and if there's a subject, it is the expression of a concept or idea, more than aesthetic appreciation, instead of style.
Modernist painting ideas and industrial development is synchronized, when modernist is suffering a crisis, painting itself is also being challenged, taking America in the 1960s as example, abstract expressionism and minimalism was the mainstream painting, the formalism concept of modernism still plays a dominant role, formalism critic Clement Greenberg was keen to highly praise minimalism in his later critic, while he hardly detected the emergence of a new social crisis and cultural issue. Therefore, the emergence of conceptual art at that time had a dual meaning. Firstly, art focused on conceptual expressions, when abstract art was more and more indifferent to the reality, increasingly far away from the reality, rather than becoming more calm, conceptual art was reflecting the happening and impending crisis with its keen thinking. In the documenta 3 in Kassel, German artist Beuys planted 7000 oaks opposite to the main exhibition hall, which was a sensational event at that time. The seemingly non-artistic behavior initially presented an ecological issue with the use of an unique method. Secondly, it was an effective means of communication that conceptual art, especially the environmental (land) art made people focus on nature once again, instead of aesthetically enjoying nature, a feeling of ecology returned, paying attention to nature.
American artist Robert Smithson, who produced "Spiral Jetty", a large scale work of environmental art, said that rather than seeing it at site, his works were disseminated by means of photography, TV and print. It's obvious that as conceptual art, environmental art essentially replaces painting to perform nature by means of visual art, and even more profoundly reveals the ecological crisis in the post-industrial era. Chinese artists similarly started to use a language and means with a strong social awareness to express the new natural concept, such as sculptor Sui Jianguo's works of sculpture – installation, that a stone was tightly wrapped by steel and then placed in a field, vividly and profoundly expressing the damage to ecology through industrial civilization. Shandong artists Gao Qiang and so on, produced an installation – performance art "Sacrifice of Yellow River" on the shore of Yellow River, taking Yellow River as the specific content, to express a deep anxiety about ecology and the environment.
After all, conceptual art is neither a painting, nor capable of replacing painting, but conceptual art is concerned with reality and society, which has a great impact on painting, post-modernism painting largely draws on the positive achievements of conceptual art, which is reflected on landscape painting. Intervention of reality in the form of landscape is both a breakthrough and an inheritance of traditional landscape painting, while traditional landscape painting reveals the interdependent relationship between man and nature, postmodern landscape painting reflects the fission and crisis of this relationship. The most well-known example is German neo-expressionist painter Kiefer, the majority of Kiefer's paintings are themed landscape, and they are focusing on conceptual expressions rather than a naturalistic reproduction of nature. His works are symbols of natural catastrophes, and a barren wilderness and charking land is a warning to human civilization, because nature is the condition for human beings to live in, a barren nature is actually a catastrophe for humans themselves. Contemporary American landscape painter Schnabel also absorbed some factors of conceptual art, combining painting and material objects, such as ceramic fragments and charred wood, silhouetted against the background of the sea, to express a worried impression of civilization. Seen from contemporary landscape paintings, the traditional concept of naturalism and reproduction techniques are not the standard way to evaluate works, instead, the expression of concept (idea) and visual vigor is often focused.
Fundamentally speaking, naturalism is still the most essential factor of landscape painting, because oil painting has a capability to truly reproduce the reality, it makes landscape painting have a natural affinity with nature. Visual media is increasingly enriched in present society, and the reproduction function of landscape painting is gradually replaced by other modern media, so the division of commercialization and the conceptualization of landscape painting has become an inevitable trend. The conceptualization of landscape painting isn't essentially deviated from the natural doctrine, it only discards imitation and the reproduction of a natural appearance, while more deeply understanding and knowing the nature on the subject and content. In the reality of contemporary society, nature has been closely linked to the harsh reality issues such as ecology, environment, etc., while the transformation of landscape is both a historical necessity and the only possibility of the present and future development.
It was originally published in "Contemporary Art".
Translated by Chen Peihua and edited by Sue/CAFA ART INFO.
Related posts: