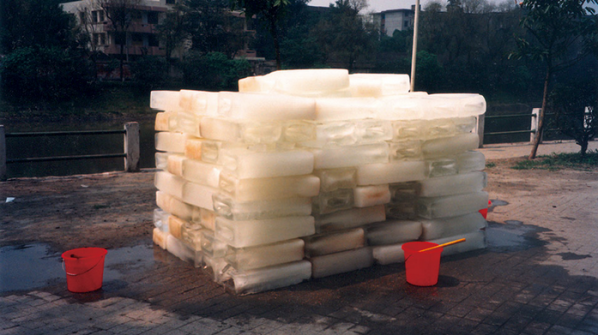 MONA (Museum of Old and New Art) is pleased to present internationally acclaimed Chinese artist Yin Xiuzhen's iconic installation work, Washing River, as a feature of the 2014 Dark M ofo festival program. Dark Mofo is MONA's annual winter festival, featuring a program of large-scalepublic art, food, music, light, film and noise.
Central to each Dark Mofo is a major public artwork, which is free to the public. This years' presentation of Washing River will be a highlight of this public program, and forms part of MONA's ongoing China Project, launched in 2013, aimed at building ongoing exchange and partnerships with China's contemporary arts world.
Yin Xiuzhen, a luminary of Chinese contemporary art, is building a wall of ice on the Hobart waterfront. It's the latest iteration of a project she began in 1995, when she was shocked to discover the polluted condition of the Funan River in Chengdu, Sichuan Province, China. Yin assembled 10 cubic metres of frozen contaminated river water and asked people to help wash the blocks of ice – a symbolic act that has rich parallels with ritual baptism.
Now, on the lip of Sullivans Cove, Yin will construct the ice wall again – this time using water from the nearby Derwent (another polluted river). Take up a Chinese mop and wash the wall with river water. As you do, the dirty water is symbolically cleansed, as the ice slowly melts and returns to the river.
Yin's chilly wall complements MONA's River Derwent Heavy Metals Project, an ongoing art-science collaboration led by Kirsha Kaechele, bent on tackling the problem of our river's pollution.
Yin Xiuzhen's artwork on the Hobart waterfront will be given a new interpretation, as footage of its installation, washing and melting is screened in the Bond Store Basement.
About the installation
Date: THU JUN 19 1PM CONTINUES UNTIL THE ICE MELTS
Venue: MAWSON'S PLACE
About the exhibition
Dates: FRI JUN 20 10AM-5PM, CONTINUES DAILY
Venue: TASMANIAN MUSEUM AND ART GALLERY (TMAG)
Courtesy of the artist and MONA, for further information please visit darkmofo.net.au.
Related posts: