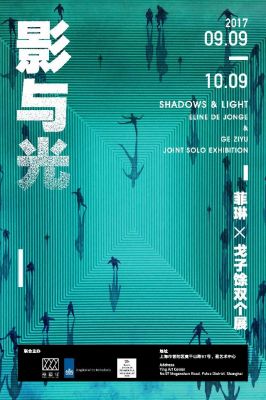 Eline de Jonge is an international award-winning artist, she got the initial inspiration for her series of shadow paintings from traveling the dynamic cities of the world.
The effect of bright days in most seasons, resulting in dramatic shadows, became an important element in her New York work. The shadows of the people in motion adds more drama to their movement. In her work Eline de Jonge is looking for a balance between energy and contemplation, between movement and quietness. Although the paintings depict dynamic city scenes, they often convey a remarkable sense of calmness. This tension is what is unique in De Jonge's work. Being in Shanghai shortly after having stayed in New York makes it easier to relate these two metropolises.
Eline de Jonge is here under the invitation of the Dutch Consulate General as the No. 4 artist of its "Dutch Artists in Shanghai" series. She has a nearly two month artist-in-residency at Ying Art Center in the bustling M50 art district of Shanghai. Her challenge is to translate her impressions of both New York and Shanghai onto canvas.
A city is about the people but her observation is that Shanghai is also a lot about history as well. This stark historical contrast found everywhere in the city is what fascinates her. She will demonstrate this in the materials she uses for this show; the past and the here and now, many mixed media pieces, including traditional embroidered fabrics, propaganda images and Chinese newspapers in addition to works of oil on canvas.
Ge Ziyu's works is a process of "same yet different", that creates endless changes by replicating the thing-in-itself. While on one hand Ge's works seem greatly industrial, actualized by precise calculation; on the other hand the works are polished and painted by artist's own hands. Ge Ziyu controls the dimension of space well with his sense of experience, art creation has become a self-cultivation. Also, Ge was trying to break or blur the boundary between the material space and the virtual space by refining the rules and attributions of color in material space. Ge Ziyu uses painting and materials to build a space for "creations out of the blue", committed to emphasize the relationship between the art works and the audiences. The works also reflect Ge's thoughts in visual problems.
About the exhibition
Dates: Sep 9, 2017 – Oct 9, 2017
Opening: Sep 9, 2017, 15:30, Saturday
Venue: Ying Art Center
Courtesy of the artists and Ying Art Center, for further information please visit www.yingspace.com.
Related posts: