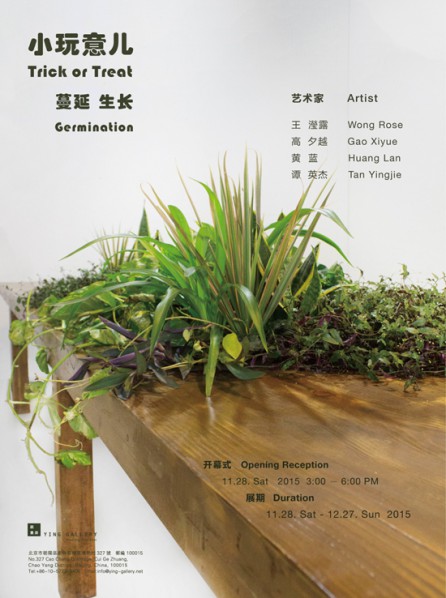 "Germination" is the second show of " Trick or Treat" series which was firstly exhibited in an independent Hutong art space . "Trick or Treat" aims to promote the new generation artists and share their artistic practices by enhancing the exchange and interaction of art and life .
The second "Trick or Treat" show is represented by Ying Gallery. In this exhibition, the four exhibiting artists start their practice from the reflection of their personal experiences and deliver via different media. Their works demonstrate the periodic metamorphosis of the artists after a certain period of academic training and individual research. They urge to open up a dialogue with people by revealing their praxis on artistic languages so as to absorb more energy and nutrition.
As the special program of the opening ceremony, a contemporary dance performance "Pin-To" will be presented at 4 p.m on 28/11. Pin-To is directed and performed by Wang Dynamics and Alexis Kam, the founder of "Evomove". In the creative process, they has collaborated the music composer Liu Yiwei (Far & Infinite) for the sound production and furniture designer Vivian Chiu for the the installation "Inception chair."
About the exhibition
Dates: 2015.11.28 Sat – 2015.12.27 Sun
Opening: Opening 28.11(Sat) 3-6PM
Venue: Ying Gallery
Address: No. 327, Cao Chang Di International Art District, Chao Yang District, Beijing
Courtesy of the artists and Ying Gallery, edited by Sue/CAFA ART INFO, for further information please visit www.ying-gallery.net.
Related posts: