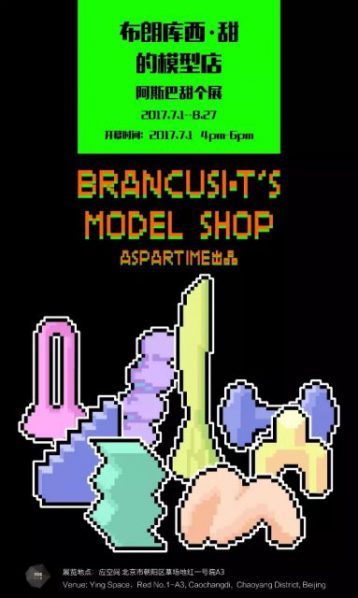 Ying Space announces that "Brancusi·T's Model Shop", Aspartime's third independent project in Ying Space will be opened on July 1st. Designed in the form of a pop-up store of utmost vogue, convenience and dailiness, the exhibition is presenting the latest works of painting and sculpture by the art group.
Aspartime re-digests and re-processes art history through re-interpreting the spirit of Cubism and referring to the works by Brancusi among sculptors from the 20th century. If what Brancusi did is to simplify forms to such a degree that the essence could be reached, for Aspartime on the other hand, the appearance of things speak for the value and significance of themselves, and that its pursuit for the beauty of form always comes to the top. Aspartime's artistic practice has little to do with themes, neither does it look into the nature for objects existing for real. In the works of this exhibition, Aspartime appropriates geometrical shapes found in the works of Brancusi and Cubist, making an effect of those shapes being duplicated, overlaid and dragged into certain trace. Coupled with gradient candy color, the works easily recall daily experience of screen shots of the infinite vector space.
Fed up with cliché ways of seeing art, Aspartime has designed display platforms with the aesthetics of commercial spaces for the works of painting and sculpture respectively. On one side are a series of rectangular paintings encircling a group of plants. Though seemingly rather ordinary, those paintings are actually free to be viewed from any desired angles. Even, it does no harm envisioning those plane images layer upon layer to be substances operating independently within the same space-time. The sculptures on the other side, painted as well in candy color, are apparently occupying sites of limited-edition design in boutiques. In addition, Aspartime is creating rather dazzling and fantasy atmosphere by means of aroma, sound effect and multicolored paints, which makes such a concept shop under the frame of the white-cube quite ambiguous. In this so-called Brancusi · T's Model Shop, the identity of artworks and products are confused on purpose: sculptures made in plastic foam resemble the effect of 3D print, while paintings are rather similar to digital printing. However, beneath the surface of simplicity, machinery, temporality and digitization are unexpectedly intensive manual dedication. The contrast of perception versus reality adds spice to the very "shopping" experience.
Starting from on-line Update Weibo Project and Idea Taobao Collection Project to off-line Idea Co-curation Exhibition and GIF Shell Product Show, to the present Brancusi · T's Model shop, Aspartime is taking on an ever-changing role of part-time artist, project initiator, designer and brand founder. What remains unchanged is its innovative spirit for the better model of art consumption experience, and always on the lookout for a more effective way of transmitting, sharing and making use of art. The conjunction of on-line and off-line, and the mixture of art and commercial space is out of question, for the presupposed barrier in between does not really exist. As for Aspartime at the present moment, a pleasant on-site experience and the purchase behavior that follows might now be the most stable co-op status, as it embodies a rather intimate romantic relationship between the producer and the consumer.
About the exhibition
Dates: Jul 1, 2017 – Aug 27, 2017
Opening: Jul 1, 2017, 16:00, Saturday
Venue: Ying Space
Courtesy of the artist and Ying Space, for further information please visit www.yingspace.com.
Related posts: