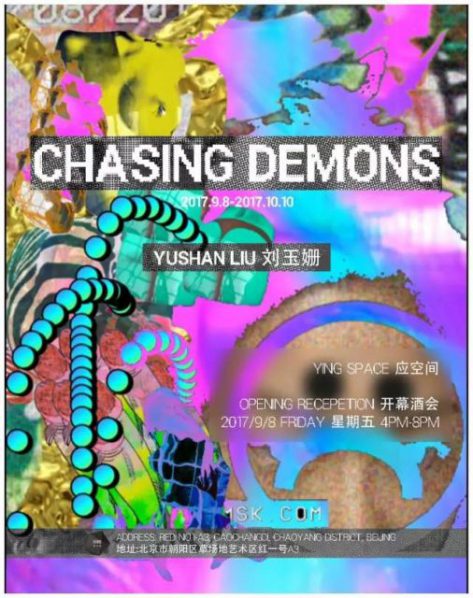 Liu Yushan's first solo exhibition "Chasing Demons" in Ying Space will be held on September 8th 4pm. This will be her first solo project in China and includes brand new series of her work.
The Collage Arts in history are primarily a method to construct a certain narrative by combining different fragmental images. These include the Cubism and Dada collage art from the early 20th century, the Chinese Bapo (or "eight brokens") paintings, the folk art Shadow Puppetry root in Chinese traditional culture and the cover design of the magazine Modern Sketch from the golden age of Shanghai in the 1930s. Liu Yushan's work is based on the conception of Collage Art. She develops a specific esthetic on her visual surface which uses pictures from the internet and contemporary city landscapes.
In Liu's work, she combines expressive painting brush strokes with printed images. In addition, different art historical references are made to engage with the viewers. All in all, making our visual experience of Collage Art drastically different from before. The orders of the different layers on her surface have been re-organized by deconstructing and recomposing the differenth and drawing marks, materials, texture, and composition. This intuitive way of putting things together allows unexpected details to be exploited and consequently enriches the time and space concept in her painting.
Liu always starts her composition from a passionate and intuitive structure. After that, she still works on her pieces over time, till every detail of her work is a result of delicate arrangement, humorous and ferocious beauty. In this exhibition, Liu is going to show large sized collage works which were specially created for our gallery space. In such a manner to explore her expressions in the painting's perceptual empiricism from different layers and is celebrated as a process of chasing all the demons: the desire/fervor, passion, and madness in her art.
The exhibition will last until October 10th, 2017.
About the artist
Liu Yushan (b.1987) works and lives both in Beijing and New York. She graduated from Academy of Arts & Design, Tsinghua University in 2011 and School of the Museum of Fine Arts, Boston & Tufts University in 2015. She participated in The Painting Area Biennial, Boston. Her works have been widely exhibited both in some renowned domestic and overseas institutions and art museums. They include: New York Javits Convention Center (2016), Museum of Fine Arts Boston (2015), Tufts University (2015), Tsinghua University Art Museum (2014), Art Museum of Guangzhou Academy of Fine Arts (2012), etc. In addition, her works are broadly collected by museums and public collections, such as Inside-Out Art Museum, National Center for the Performing Arts, Paning Centennial Foundation, China Guanlan Original Printmaking Base, Shenzhen, etc.
About the exhibition
Dates: Sep 8, 2017 – Oct 10, 2017
Venue: Ying Space
Courtesy of the artist and Ying Space, for further information please visit www.yingspace.com.
Related posts: