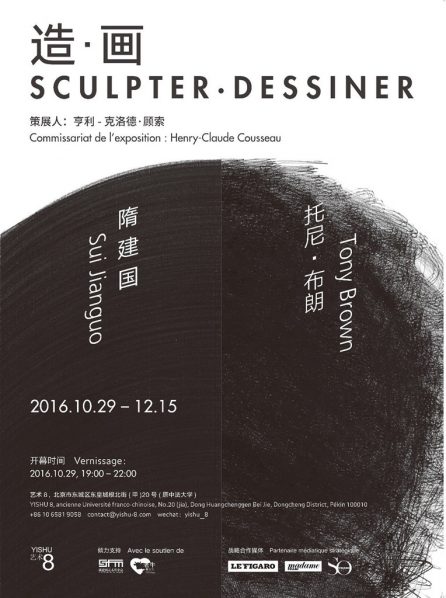 Sui Jianguo and Tony Brown: a modernist "face à face"
They are two old friends, two sculptors, two academy professors, two artists who have followed each other's career and who admire each other. These are the reasons that led YISHU 8 to organize this exhibition, to initiate this dialogue in the autumn of 2016.
Their reputation precedes them. Sui Jianguo has become one of the most acclaimed contemporary Chinese sculptors, and one of the better known on the international scene. He is also a famous professor whose personality is deeply anchored in his country's culture and in its exceptional energy. Tony Brown followed a very different path. Born in England, he was one of the leading figures of the European art world in the 90's (we all remember his participation at the 1990 Documenta IX). He is a highly discerning and respected professor who, after a stay in Paris, moved to China because of the strong affinities he felt towards Chinese culture. This is where he now pursues an acclaimed career as a creator and as a teacher.
Sui Jianguo, a sculptor in the most traditional sense of the word, unceasingly revisits sculpture's ancestral techniques, even when his practice aims at bringing a new perspective or meaning into the art form, or attempts to establish a distance that is both critical and thoughtful in today's sculptural practice. This translates, in his particular case, into a vision that is both new and full of irony, and filled with an unvaryingly sensitive sense of humor. And so, in the rooms of the new foundation that bears his name and which was inaugurated last May, we can see how Sui Jianguo reinterprets in a fascinatingly intelligent manner, somewhere between pastiche and parody, all the major paradigms of modernist sculpture history, from the 1960's until today. With an unequaled inventiveness and freshness, he builds his œuvre as the tale or novel of the great adventure of modernist sculpture.
When we think of Tony Brown, we are compelled to reflect on the very nature of modernism. The complexity, the elegance of his sophisticated technological installations that unite and combine movement, architecture, images, light, and the cinema… appear to synthesize what modern thinking can produce within a contemporary context. Yet his thinking is more complex than this as it also aims, in a sense, at routing modernism and its supposed rationality. Tony brown designs machines but these machines produce results that are in direct opposition to their finality; in other words they give randomness and lack of control the reassuring appearances of a set of aesthetics that invokes the supremacy of the visual and the full command of the thinking process. In the end, it is randomness that is mysteriously introduced, and with an unexpected demiurgic strength.
We could be led to believe that, for these two creators, drawing only fulfills its traditional role – that of an approach, of a preparatory stage, of a mere sketch. Yet, we cannot fail to see that both artists transform it into a fully fledged rigorous discipline, showing an inventiveness that imparts a new dimension to their work, infusing them with a fresh meaning and a new formulation that add unexpected facets to them. Later on, we will read how Sui Jianguo uses processes that employ a corporal, psychic automatism together with the unpredictability inherent to the medium, and successfully enrich his language with a new vocabulary in doing so. Whereas he goes from unpredictability to shape, Tony Brown does the exact opposite and goes from shape to unpredictability. While creating a robot that will take the place of his hands, become his tool and simulate absolute control, he secretly introduces a digital process that forces it to fail and to accept the consequences brought by chance – as is the case in life. This is how configurations that take him at his word come to life: dynamic, irresistible, untamable, vortex and hurricanes, black holes and tornadoes, they skillfully introduce the question of randomness and of self-surpassing, of fragility and renewal. If drawing forces them into self-reflection, it also has a liberating effect, perhaps enabling them to go beyond the limits inevitably inherent to their work, and giving them avenues to explore boundaries, go beyond confines and appearances.
Henry-Claude Cousseau
Curator, President of YISHU 8 Association
About the artists
Sui Jianguo (b. 1956 in Qingdao, Shandong province) received a BA in the Fine Arts Department from the Shandong University of Arts in 1984 and an MA in the Sculpture Department from the China Central Academy of Fine Arts in 1989, where he currently presides as the head of the Sculpture Department. He has been praised by art critics for being a "pioneer venturing to the farthest reaches of Chinese sculpture."
Sui Jianguo's art explores his unique understanding and recognition of creation, form, alternative media, alternative methods, and space-time. His sculptures are ingenious fusions of concept and form, as many of his works utilize large-scale force to impact viewers. Sui Jianguo's early works carry strong symbolic content, most of which carefully relates the peculiarities of society and history. His later creations gradually became disconnected from his own identity and began incorporating a bigger visual angle, thus making his concepts of cultural space-time apparent. Sui Jianguo's work also succeeds in bringing forth introspection on the artistic process in modern China. Whether it bethe Realism in his early works or the classic shapes in his later Mao Jacket and Dinosaur pieces, both rely on the wisdom of native Chinese genealogy and channels of culture to serve as ways to solve problems, as outlets. The work reveals an obvious academic's severely critical standpoint regarding society and human morality. His works also touch on the realms of video and public performance.
The artist has participated in many group and solo exhibitions, including Motion/Tension: New Work by Sui Jianguo in Today Art Museum, Beijing, China (2009);The Hague Under Heaven: Sui Jianguo -Sculpture in Museum Beeldenaan Zee, Hague, Holland (2011), Sui Jianguo in Pace Beijing,and Physical Trace-Sui Jianguos'work in Gallery Sheffle, Bad Humbeger, Germany (2012)as well as The City of Forking Paths: The Sculpture Project of the Expo Boulevard, World Expo Shanghai (2010), Reactivation, 9th Shanghai Biennale, Power Station of Art, China(2012), The Unseen, Fourth GZ Triennial, Guang Zhou Art Museum, China(2012).
Tony Brown was one of the first artists in the early 80s to produce cutting edge technologically oriented installation art. He is an established artist, exhibiting his work internationally, in numerous exhibitions and art fairs such as: Documenta, Kassel, the Armory Show, New York, FIAC, Paris and Shanghai Contemporary. His work has been exhibited and collected by many important international museums and private collections in: Canada, United States, Asia and Europe. Most recently, he broadened his practice from working primarily as a contemporary artist producing media installation work to: drawing, design and large architectural projects.
As well as maintaining an artistic career Tony Brown has a long and distinguished academic career lecturing and teaching in numerous international institutions in: Canada, United States, Asia and Europe; most notably at the Ecole des beaux arts Paris, France where he was the director of their post diploma program La Seine with his academic experience including being the provost for Parsons Paris, France.
About the exhibition
Curator: Henry-Claude Cousseau
Dates: October 29 – December 15, 2016
Venue: YISHU 8, former sino-french university
Address: No.20(Jia), Donghuangchenggen Bei Jie, Dongcheng District, Beijing
Courtesy of the artist and YISHU 8.
Related posts: