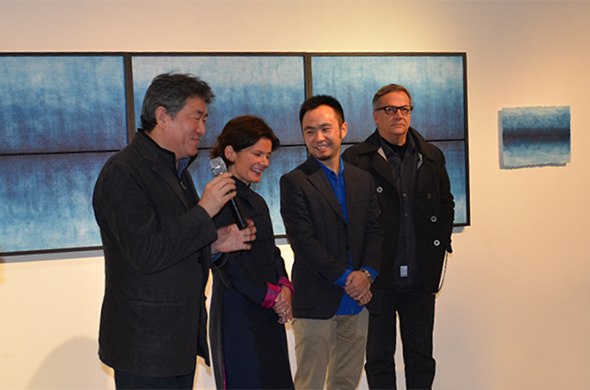 At 4:00 pm on November 2, 2014, young artist Peng Yong's Solo Exhibition "The Blues" opened at YISHU 8, it presents the artist's recent creative achievements.
As the winner of YISHU 8 China Award 2014, Peng Yong created a batch of excellent works at the YISHU 8 residency from July to September. Peng Yong was born in Hunan Province, China in 1984. Graduated from the Department of Printmaking, CAFA, with a master's degree, he currently teaches in the School of Design, Tianjin Academy of Fine Arts, working and living in Tianjin and Beijing.
Peng Yong's work tries to reflect the influence of modern society, patterned life of people, explores the relationship between the plurality logic carried by contemporary life and the plurality of print, putting forward a plural concept of "integrating many into one", so plurality of print becomes an important concept of work, rather than many prints diverted from a version, when they are integrated to one big work, the more copies the bigger the power, making full use of plurality of print to produce a more heart touching visual language. The Blues – Peng Yong's solo exhibition will continue to November 16, 2014.
Peng Yong is an earnest and hardworking artist.
His work is composed of many 50 x 50 cm master plates, producing prints which freely connect with each other, closely related to the exhibition space, to create a changeable artistic effect. Like most of the construction processes of a standardized building, the inner module determines the scale and change of the building, which plurality thinking of Peng Yong's work is based on, the screens are divided into similar sized grids by a variety of horizontal and vertical, thick and thin straight lines, arbitrarily combining them according to different exhibition venues and offering exhibition effects, and even spreading to the three-dimensional space. The uniformity and abundance presents an abstract aesthetic feeling and dynamic rhythms.
Peng Yong is also a thinking artist.
The cumbersome and expressionless screens of his works present a special beauty of order as well as the sense of desolation of the modern urban buildings. Lonely buildings stand in silence, as if they are the residues of the universe. Concentrated and depressive black blocks are as colorful as floating bubbles of the bright colored texture. "Plurality" becomes a resonant superposition instead of citing and piling up symbolic images. He calls it "integrating many into one". Perhaps it is a practice of Buddhism for him, infinitely repeating the name of Buddha, constantly practicing the Teaching of the Buddha, to gain the purification, gradual enlightenment, and a purer ego.
Text by Tan Ping
About YISHU 8 Award
YISHU 8 Award is a Sino-French culture and art communication program, since it was founded in 2011 with a jury composed of experts and collectors which annually selects three young French artists to come to the YISHU 8 residency, Beijing, to create and hold solo exhibitions. They not only enjoy a three-month resident qualification they also have advantageous working conditions to finish the creative target. Since 2013, with the support of the Hermes enterprise foundation, YISHU 8 is open to young Chinese art creators and carry out a residency communication program, in cooperation with CAFA to organize activities.
The cultural legacy of original Franco Chinoise University has been inherited, since the founding of the award, it offers Chinese and French young artists a platform for free creation and communication. It connects tradition and innovation and bridges the Chinese and Western cultures and arts.
About the exhibition
Duration: November 2 – November 16
Venue: YISHU 8
Photo courtesy of the artist, translated by Chen Peihua and edited by Sue/CAFA ART INFO.
Related posts: