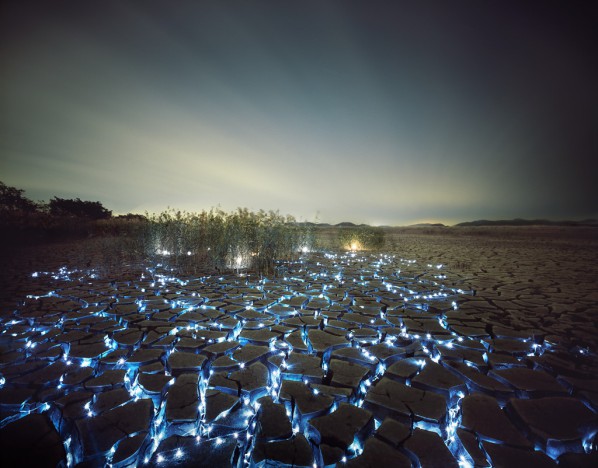 "Power", itself is a special energy of today's young artists, which does not only embody the technological innovation, but also reflects in the language of painting. Jointly organized by the Center of Contemporary Art Shangdong and Art Nova 100, "Young Power—Youth Art Recommendation Exhibition" presents more than 100 works of contemporary art, covering oil painting, abstract, ink painting, sculpture, installation, etc., as well as the use of a variety of creative forms to perform the unique temperament of the young contemporary artists, their language styles are different, rich and vibrant. For the selection of work, it gives priority to easel paintings, attempting through this exhibition to have a profound communication between the artists and the viewers. The organizer attempts through such a special way of "communication" to talk about the thing behind the exhibition, a thing called "young artistic conception".
Contemporary art which was "unreachable" before has been gradually accepted by the public and slowly integrated into life, especially youth art, the work naturally blends a distinctive "feeling of the times" this can attract a greater audience to stop and appreciate contemporary art, and attract more art lovers, Art Nova 100 brings together more than 40 young artists to play a "powerful" symphony for the audience.
About the Center of Contemporary Art Shangdong
Center of Contemporary Art Shangdong was set up by the couple Li Li and Qin Jianjun in 2007, it is a private non-profit art organization. The art center is located on the east side of Zijin Mountain of Nanjing, in the center of Xianlin university city, covering an area of more than 2000 square meters, in addition to the art museum, there are hundreds of squaremeters of artist studios and more than 20 artist apartments.
About the Exhibition
Title: Young Power – Youth Art Recommendation Exhibition
Curator: Art Nova 100
Opening: 15:00 on March 22
Duration: March 22 – April 19
Venue: Center of Contemporary Art Shangdong
Address: A 17, Shangdong Garden Commercial Plaza, No.118 Xianlin Avenue, Nanjing
Courtesy of the artists and Art Nova 100, translated by Chen Peihua and edited by Sue/CAFA ART INFO
Related posts: