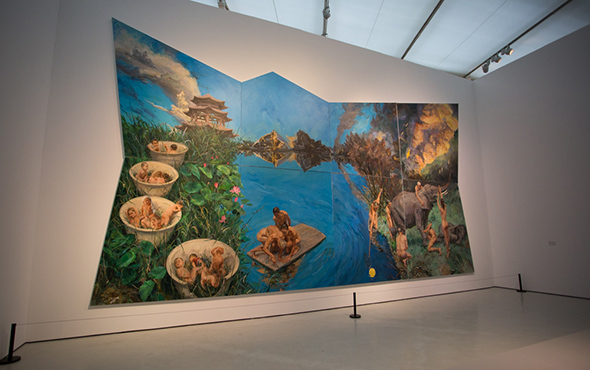 Yu Hong is the representative figure of contemporary realistic oil painting, and she has both stood fast with the use of ontological language of realistic oil painting and expanding the viewing channel of realistic oil painting from a variety of dimensions. "Reality and unreality", "reality and hyper reality", Yu Hong often brings together this contradiction and confrontation in creations, she believes that it is an interesting place for painting, and also arousing the mind to think. Since September 29, Yu Hong has presented a solo exhibition entitled "Garden of Dreams" at CAFA Art Museum, she presents a juxtaposition and collage of exquisite realistic styles and the scenes and characters of different time and space – crossing the ancient and modern, the East and the West, Dreams and Reality.
During the arrangement of the exhibition, Yu Hong agreed to an exclusive interview with CAFA ART INFO, evaluating her exhibition to share her "real" views of the painting in the era of image.
Interviewer: Zhang Wenzhi
Interview Time: September 27, 2016
Interview Location: Central Academy of Fine Arts (abbr.CAFA)
Translated by Chen Peihua and edited by Sue/CAFA ART INFO
In your last solo exhibition entitled "Concurrent Realms" held in Suzhou last year, it was a response to the different dimensions and different ways of understanding the world, while the "Garden of Dreams" is also a continuation of viewing and understanding of the Suzhou exhibition. The difference is that there is a perspective of the classic, tradition, and literature.
Yu Hong: The preparation of the show "Garden of Dreams" has taken more than a year, and it presents a total of 19 works, one of the largest is called "Garden of Dreams", and this exhibition also adopts this name. This work depicts a few characters, events and landscapes of ancient Chinese fables in a traditional Chinese garden, the use of painting to connect the stories, and also includes news of recent years, integrating the ancient and contemporary, real and absurd things in a seemingly dilapidated but vibrant garden, placing a lot of contradictions within a space. The "Parallel World" has something to do with it. It's a response to the events happening every day, which are cluttered and unrelated, but these events and the ancient fables actually influence each person, the society, and the era, so I want to put these diverse, disordered, chaotic elements together, which is my response or feeling of this real society.
"Garden" refers to a specific space, which is very important, if there is no garden there is no dream. It is a question about "space", firstly when your works are presented in the museum, the exhibition itself has created a space, on the other hand, it also creates an unrestricted spiritual space, which has been described in the preface of the show, and I am more interested in this space, it might furtherbe involved in the creation of the work, as well as the interpretation for the audience.
Yu Hong: The so-called another space might be a psychological space. I think the painting has a certain capability to carry on the psychological discussion, but it is very limited in fact. Painting is seen completely at a glance, and it is a certain limitation for the spatial expression of painting, how to have more expressions of this physical space and psychological space? I select and blend these real fragments and express them in a real space on the canvas. These fragments and details are very real and concrete, but the correlation between them is loose, disordered so it will produce a surreal state. In fact, people are often passing through within the real and non-real.
"Garden of Dreams" is a colourful story, whether Du Liniang's story really happened, or was it just a dream, it is not important. After the story, the protagonist has found the self. Can your creation can be called an experience or a process?
Yu Hong: I like the 4 Chinese characters of "Garden of Dreams", which have two interpretations. On the one hand, it is a very famous fragment of the Kun Opera. It is a very surrealistic story, the interesting story that brings together dreams, realities, love, life and death. On the another hand, I love the 4 Chinese characters of "Garden of Dreams", I think the separating of these 4 characters can create a very interesting topic, and this process is to some extent in line with my creative process and I also hope that the audience can understand this psychological process.
In the "Garden of Dreams", seen from the story portrayed by the painting, "The Blind Men and the Elephant", "Monkey Fishes the Moon" do not have a true result, one can never really understand the shape of the elephant, nor being able to fish a moon, but this process has really happened. This relationship is very interesting as you can combine your creative experience to talk about it? Especially your creative skill using a realistic technique.
Yu Hong: Yes, we have spent many years learning how to really perform things, but I was actually interested in surreal things from the beginning, such as surrealist paintings by Magritte in Europe, South American magical realistic art and literature, there is not any crossing of boundaries between the truth and dreams or imagination. When I graduated from CAFA, I drew a number of portraits, where I pulled the background away, placing a man in a flat monochromatic space, the relationship between the man and the background is a detached relationship, in fact, it expresses the state of a real man located in a non-real environment. It is the thing that I have always been interested in, so that I often like to bring contradictions and irrelevant things together in a creation, reality and non-reality, realism and abstraction, I think it is particularly interesting, it can arouse a thought in people's mind.
Would you like to share the analysis of the surrealistic elements in a specific work, or the contradictions and irrelevance of painting?
Yu Hong: In fact, many of my works do, for example, "Garden of Dreams" is very typical. In my painting called "Ophelia", its prototype is the one by Millais from the British Pre-Raphaelite Brotherhood, but I took away a lot of things, such as a girl lies in the water, surrounded by the lush plants and a variety of animals in the process of intercourse, but people are in a process of death, so a contradiction between life and death is presented in this painting. There is also a long painting called "Ever Higher, Ever Further", the whole work uses a telephone pole to connect the three pictures. The whole screen includes both the reality of cruelty, and also a beautiful romantic feeling, while the sense of restlessness is also presented in this painting.
In the developmental logic of Western art, the "reality" of painting is constantly weakened, in the contemporary art dominated by the United States, the meaning of the image is far more than reproduction or even negating the reproduction of painting, because we have been in the world of image. Chinese contemporary art still largely follows a Western route and people often believe that Chinese oil painting is dim and the education of oil painting in the academies has stopped, do you think this is the reason?
Yu Hong: I think your statement is actually quite interesting. In modern times, the traditional medium of oil painting or realistic oil painting is facing a very big challenge, every technological progress makes the painting deviate more and more from the reality, because it does not need paint to reproduce it, instead photography, video and film can work, and they are as good at expressing reality as a painting, which might tend to be more and more personal, spiritual. But the difficulty of painting is the threshold is too high, one cannot draw anything until it has been learned over a few years. If one is engaged in other mediums, he or she might be able to have a decent creation after several months, now all things are pursue a low-cost, and fewer and fewer people are willing to spend so much time, energy and money to learn, it is certain that more people are attracted by new media.
Fortunately, I think the Chinese painters who continue with realistic painting, are actually very good in the skills of realistic painting, they have a perfect ability, technology, expression, but they are too self-centered, living in a small circle, enjoying the works in the studio or exhibition, really apart from society, which is a very important problem.
In this contemporary cultural environment, full of a variety of new technology, new media, how do we find the value of painting, especially the painting of a realistic style, you are a senior oil painter, would you like to start from your perspective to talk about the way out?
Yu Hong: I do not think it is necessary to talk about the way out, because it can not be designed, it is an individual aspect of each painter, it is difficult to talk about a common way out. I think when artists paint or are engaged in other media, first of all, they have to be good at this medium, secondly the most important thing is the artistic creativity, which requires one to be concerned with the world, to have a new thought of the world, then I think the material is not a problem, then if the media is technology it is not a problem.
Images of works courtesy of the artist
About the Exhibition
Title: CAFA Annual Fine Arts Nomination Exhibition 2016 – Yu Hong: Garden of Dreams
Curator: Fan Di'an
Exhibition Directors: Ma Lu, Wang Huangsheng
Hosted by: China Central Academy of Fine Arts
Organized by: The School of Fine Arts, CAFA and CAFA Art Museum
Exhibition Dates: September 29 – October 30, 2016
Exhibition Location: the 3rd Floor, CAFA Art Museum
Opening: Thursday September 29, 2016 5:00 pm
Related posts: